No woman named Hajan Momina ever remained member of PAT or MQI: Razia Naveed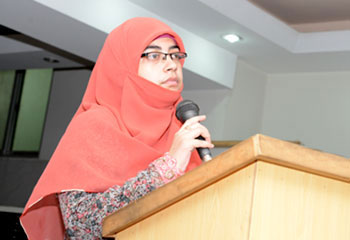 Central President of PAT Women Wing Ms. Razia Naveed has said that no woman by the name of Hajan Momina has ever had anything to do with either PAT or MQI. She said that according to our research and information, Hajan Momina is using the documents and name of some other woman. She said that we would get a case registered against her and expose her patrons on proper time. She said that the woman has hidden her real identity.
The PAT Women Wing President said that one minister of Punjab government, an MPA and a police officer are behind this whole false and misleading story and their shared objective is character assassination. She said that all and sundry of Kot Lakhpat area know the reputation of a woman named Hajan Momina that this woman works for police and she is in good books of police. She said that more facts will be presented to the court of law. She warned the Punjab government to refrain from such activities.