All terrorism cases of grave nature be heard by military courts: PAT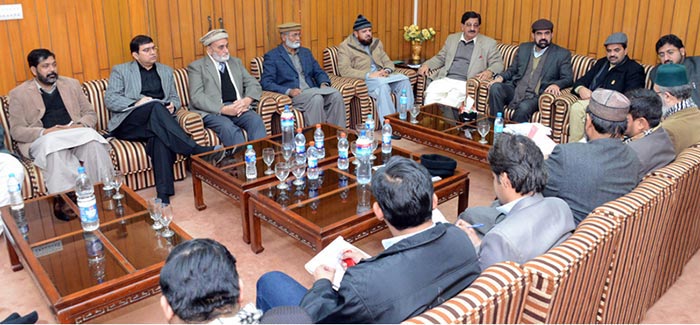 A consultative meeting of Pakistan Awami Tehreek was held at the central secretariat on February 24, which was presided over by the central President Dr Raheeq Ahmad Abbasi.
Speaking on the occasion, Dr Abbasi said that Dr Tahir-ul-Qadri has been proven right once again wherein he had stated that the Sharif brothers are on the mission of thwarting military courts and using the war on terror for political purposes. The meeting demanded that the anti-terrorism courts should be stopped from hearing and deciding cases of serious nature and all of these cases should be transferred to the military courts for trial. The meeting was attended by Khurram Nawaz Gandapur, GM Malik, Sheikh Zahid Fayyaz, Mushtaq Nonari Advocate, Jawad Hamid, Razia Navedd, and others.
Dr Abbasi said that decisions of 42 out of 70 high profile terrorism cases in Punjab taken in a span of one month represent the 'magic' employed by PML-N so that terrorists and their patrons could be saved from getting punished by the military courts. He asked the rulers of Punjab to tell as to how the performance of the anti-terrorism courts improved overnight? He said that the Punjab government finalized 52 terrorism cases after January 6 for their subsequent trial in the military courts and its number has now reduced to 10. He said that if work continued to be done at this speed, not even a single terrorism case would be left for hearing in a military court, adding that this is the target of the Punjab Chief Minister, who is mastermind of the Model Town tragedy.
The PAT President said that the anti-terrorism courts decided 42 out of 70 high profile terrorism cases in one month. He said that these cases have been pending for last eight years and their appeals were not being fixed for hearing. He said that cases are being decided one after the other after decision to establish the military courts was taken. He asked why these decisions were not forthcoming previously.
He said that this thing is not as complicated as it appears to be as there is a clear method to madness. He said that there is a clear understanding among some circles that if these cases are heard by military courts, the hardened criminals will have to tell the names of their patrons, facilitators, supporters, abettors and helpers and the places they took shelter in and perhaps this may not be to the liking of the rulers in Punjab. It explains why hectic efforts are being made to clear off the pendency of cases. He said that terrorism cases are being decided speedily over and above the military courts.
Dr Raheeq Abbasi said that the PAT demands that all culprits and accused arrested in terrorism cases should be tried in military courts so that their facilitators and patrons are exposed and made to face justice. He said that unless facilitation and support networks of terrorists are identified and uprooted, the scourge of terrorism would not end. He said that watchful eye should be kept on the 'quick work' of anti-terrorism courts and they should be asked to explain as to how their performance registered improvement all of a sudden and how all bottlenecks were removed. He further said that Inspector General of
Punjab said one thing at the federal level whereas the Punjab government said another thing in the Punjab assembly. He said that the Punjab assembly is being told that there are 4000 ghost schools in the province. He said that the Punjab government is treating the war on terror as a joke and discrepancy between its actions and words is affecting the war on every step.