Manzoor Wattoo asks CM Punjab to publish report of Judicial Tribunal on Model Town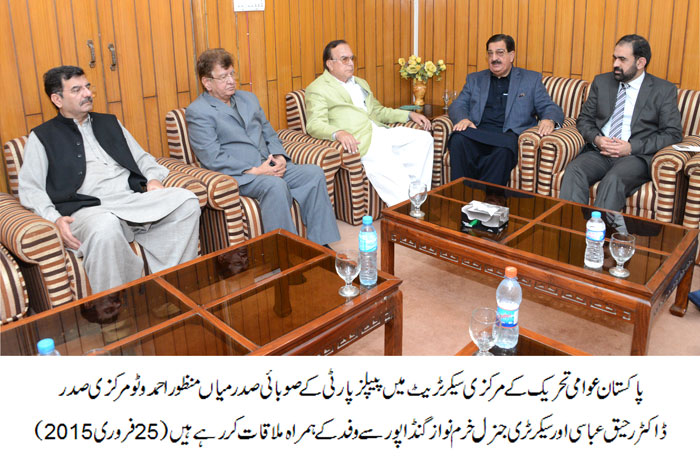 It is regrettable that the Chief Minister of Punjab has not made the report of Judicial Tribunal public which was constituted by him. If the Model Town case comes up to the criterion, it should surely be transferred to the military court. The height of oppression perpetrated in Model Town does not have its parallel in any civilized and democratic society of the world.
These views were expressed by Pakistan People's Party Punjab President Mian Manzoor Ahmad Wattoo during his meeting with PAT President Dr Raheeq Ahmad Abbasi and Secretary General Khurram Nawaz Gandapur at central secretariat of PAT today. Tanvir Ashraf Kaira, GM Malik, Mushtaq Nonari Advocate, and Sajid Bhatti were also present during the meeting. The matters related to by-election in Nankana, prevalent political situation in the country, and upcoming local government elections came under discussion during the meeting.
In response to the PPP's request for support of its candidate in by-election in Nankana, Dr Raheeq Ahmad Abbasi said that the decision to this effect will be taken after consulting the local leadership and workers of PAT Nankana. He said that other candidates taking part in the elections have also contacted the central secretariat for support, adding that the final decision in this regard would be taken by the workers.
After the meeting, Dr Raheeq Abbasi talked to media along with Mian Manzoor Ahmad Wattoo. He said that the PAT is ready to extend cooperation to any political party that supports our 10-point agenda and is engaged in struggle against PML-N government. He said as long as PML-N stays in power, neither would electoral system based on rigging and winning horses end, nor would justice be delivered to the victims of Model town tragedy. He said that the senior leaders of both parties have agreed to convene an all-parties conference to ensure the holding of local government elections in the province. He said that all opposition parties will be invited to the APC. Dr Raheeq Abbasi said that PML-N's politics is characterized by concentration of power and the country and democracy cannot move forward in the presence of such exploitative thought.
Speaking on the occasion, Manzoor Ahmad Wattoo said that the PAT has a vote bank throughout the country and its workers are educated and politically very aware. He said that Dr Tahir-ul-Qadri's struggle for elimination of terrorism is praiseworthy. He said that the PPP acknowledges the democratic credentials and capabilities of Dr Qadri, saying that his party worked closely with him in the past when he headed Pakistan Awami Ittehad, a grand alliance of opposition parties.