Punjab Govt behind process of getting PAT leadership declared as PO: PAT Spokesperson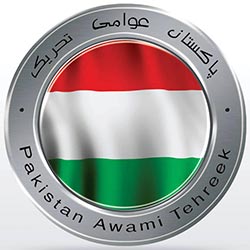 Reacting to the process of getting PAT chief Dr Tahir-ul-Qadri and other leaders declared as proclaimed offenders (PO), a spokesperson of Pakistan Awami Tehreek (PAT) has said that the Punjab government is not refraining from devious tactics against Dr Tahir-ul-Qadri and other leaders. He said that the whole country is burning in the fire of terrorism and the Punjab government is wasting all of its energies against political opponents. He said that anti-terrorism courts are being used against political opponents instead of letting them do their real work.
The spokesperson interpreted the vindictive action of the government as a failed attempt to make PAT withdraw from its stated and avowed goal of seeking justice for martyrs of Model Town. He said that these tactics of the rulers cannot distract us from the path of justice and principled stand. He said that the Punjab government and killer police is behind the efforts to get Dr Tahir-ul-Qadri declared as proclaimed offender in fake cases. He said that we would not rest till we make those responsible for Model Town tragedy face justice.