Congratulations - Sahibzada Hussain Mohy-ud-Din Qadri got engaged
The Happiest News for All the Members and Affiliates of Minhaj-ul-Quran International Sahibzada Hussain Mohy-ud-Din Qadri Got Engaged
CONGRATULATIONS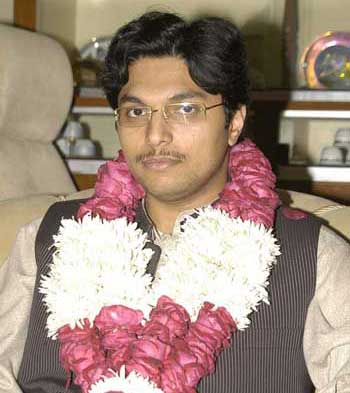 Sahibzada Hussain Mohy-ud-Din Qadri, the younger son of Shaykh-ul-Islam Dr Muhammad Tahir-ul-Qadri and Member Supreme Council MQI got engaged with the daughter of Safeer-e-Europe Allama Hafiz Nazir Ahmad Khan Qadri Markazi Naib Ameer, who is also a member of Supreme council of MQI. The engagement ceremony was arranged at the Al-Qadriya Model Town Lahore on the sanctified day of Eid-ul-Adha and the first of year 2007.
Ameer-e-Tehreek Sahibzada Faiz-ur-Rehman Durrani, Shaykh-ul-Hadith M'iraj-ul-Islam, Mufti Abdul Qayyum Hazarvi, Nawaz Zafar, Sheikh Zahid Fayyaz, Principal Secretary to Shaykh-ul-Islam GM Malik, Ahmad Nawaz Anjum, Javed Iqbal Qadri, Shahid Latif, Shamim Numberdar, Jawad Hamid, Sajid Mahmood Bhatti, Shaykh Abdul Aziz Dabbagh, Imtiaz Hussain Awan, Sajjad ul Aziz and other Leaders of MQI were present on the occasion.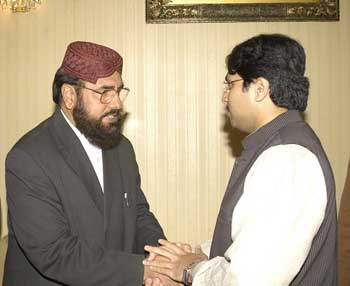 The ceremony commenced with the recitation of the Holy Quran. Qari Allah Bakhsh Qadri recited the holy verses. Shakeel Ahmed Tahir recited Na'at-e-Rasul (peace be upon him). Ameer-e-Punjab Ahmad Nawaz Anjum, Shaykh-ul-Hadith M'ir?j-ul-Islam, Mufti Abdul Qayyum Hazarvi, Sajid Mahmood Bhatti, and all other Leaders present at the occasion expressed their joyful feelings and good wishes for Sahibzada Hussain Mohy-ud-Din Qadri and his fiancé and the whole family of Shaykh-ul-Islam.
Though far away from Pakistan, Shaykh-ul-Islam Dr Tahir-ul-Qadri also remained present in the ceremony on telephone. His was the most felt presence. Everyone present extended to him cordial and deep felicitations which he received and responded warmly in his most fervent style. His physical presence, however, was missed by all.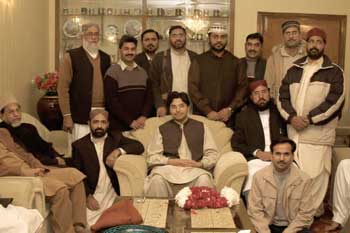 Speaking on the occasion Shaykh-ul-Islam said that he took guidance from the Prophetic Sunnah before taking the final decision. According to Holly Prophet PBUH the most important aspect to be taken into consideration while getting engaged and married with someone is his/her piety and righteousness along with family background, facial and physical acceptability and financial aspect. He said that Safeer-e-Europe Hafiz Nazir Ahmed has been blessed by Allah and he has rendered most valuable services to the Prophetic Mission. He has made special efforts in upbringing his children according to teaching and moral and ethical values of Islam. He has transferred the love of Prophet PBUH and Mustafavi Mission into his children by a life long effort. This aspect of Hafiz Nazeer Ahmed Khan made it easy for him to take the final decision.
The ceremony ended with prayers offered by Shaykh-ul-Islam and joined by all present on the occasion.