Shaykh-ul-Islam's Birthday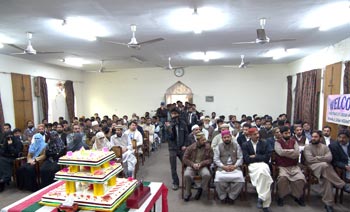 Reported by Hafiz Farhan Sanai
Translated by Muhammad Hanif
Today, 21th February 2007, is a blessed day: today is the second day of week long ceremonies in connection with 56th birthday of Shaykh-ul-Islam Dr Muhammad Tahir-ul-Qadri. The event took place in the conference hall. The headquarters of Minhaj-ul-Quran International started the day by shedding light on various aspects of Shaykh-ul-Islam's personality. The noble function was arranged by the following directorates: Admin, Finance, Foreign Affairs, Research and Security.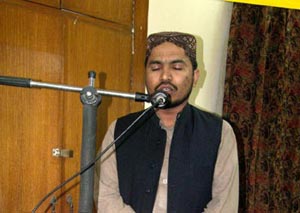 The programme was well attended. The following central leaders of the Tehreek were present on the occasion: Nazim-e-Ala Dr Raheeq Ahmad Abbasi, Naib Nazim-e-Ala Sheikh Zahid Fayyaz, Senior Naib Nazim-e-Ala Col (r) Muhammad Ahmad, Director Farid-e-Millat Research Institute (FMRi) Dr Ali Akbar Azhari, Director FMRi two Dr Karamat Ullah, Principal Secretary to Shaykh-ul-Islam and Director Foreign Affairs GM Malik, Director Finance Hajji Jawaid Iqbal Qadri and Director Admin Riyaz Husayn Chaudhry.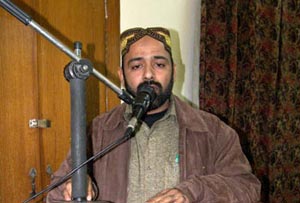 Hafiz Farhan Sanai was the stage secretary. Muhammad Zia-ul-Haqq Razi, a research scholar at FMRi, opened the function by reciting the verses from the Holy Qur'an at 9:30 in the morning. Deputy Director DFA Shakeel Ahmad Tahir sang the praise of the Holy Prophet (may Allah send greetings and salutations on him). Zia-Ullah Nayyar, in charge department of Urdu literature at FMRi, paid respect to Shaykh-ul-Islam by reciting a poem.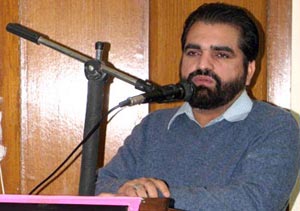 Dr Ali Akbar Azhari welcomed those present on the occasion. He, paying homage to the reviver of the century Shaykh-ul-Islam, said, "Now that I have acquired the degree of doctorate, I would have been a lecturer at a college or a university, if I had not been associated with Shaykh-ul-Islam. By the grace of Allah, I am satisfied that I am rendering services for the great cause of Islam at the headquarters of Minhaj-ul-Quran International." Then he urged the workers of Idara Minhaj-ul-Qur'an on observing patience and calm in everyday life, banishing all forms of hypocrisy and selfishness.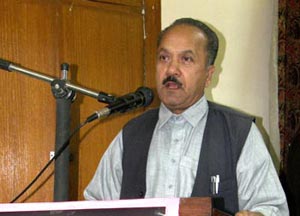 Dr Karamat Ullah stressed: We must illuminate ourselves by the light of Shaykh-ul-Islam's intellectual, ideological and spiritual efforts. He has authored about 300 books and his 5000 recorded lectures guide us to divine light which we must spread through our speeches and writings.
Chaudhry Riyaz lifted veils from the past and told the wonderful impact of a speech of Shaykh-ul-Islam he listened to in 1986. When Chaudhry Riyaz listened to the first speech of Dr Qadri on "Holy Prophet's Ascention", it won his heart for lifelong.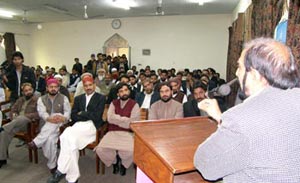 In his speech Hajji Jawaid Iqbal Qadri traveled back to Shaykh-ul-Islam's past and narrated some moral stories which tell one of his selflessness and devotion to Tehreek-e-Minhaj-ul-Quran. "As far as his personal loss - however great it is - is concerned, he forgives and smiles. But where the financial matters of the Tehreek are concerned, he does not let go even a single penny (or rupee)."
GM Malik - the last speaker - narrated Shaykh-ul-Islam's love for the Holy Prophet (may Allah send greetings and salutations on him). He added: "All the glories and blessings in the world come to one by becoming a slave in the street of the Beloved (may Allah send greetings and salutations on him)."
Last of all Mufti Abdul Qayyum Khan Hazarwi prayed to Allah Almighty. In the course of supplication Mufti Sahib urged on the audience to match their deeds with their knowledge, following the practice of Shaykh-ul-Islam.
The blessed ceremony ended at 10:45 in the morning.