PAT urges government to make anti-terror war key national priority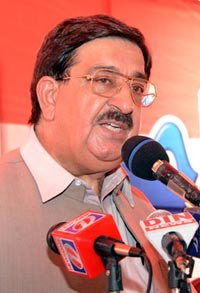 PAT Secretary General Khurram Nawaz Gandapur has asked the Prime Minister to tell the nation clearly as to which country is sponsoring terrorism in Pakistan. He said that if there are proofs to corroborate these claims, then these should be presented at all international forums including the UN instead of keeping them close to one's chest. He said that around 60,000 people have lost their lives in incidents of terrorism over last many years, adding what greater destruction we are waiting for before we move forward.
PAT Secretary General expressed these views while talking to party workers in his office in the central secretariat the other day. He said that the political mantra of making allegations against neighbours to hide one's failure and incompetence has become obsolete. He said that if any country has been found to be involved in terrorism in Pakistan, then what good are the agencies mandated to ensure the country's security on whose maintenance, perks and salaries billions of rupees are spent?
Talking about the Model Town tragedy, Khurram Nawaz Gandapur said that the government is wasting its time, and money on the JIT composed of all yes men because its dream to get a clean chit from it will never materialize. He said that PAT has formulated a strategy how to get justice for Model Town victims. He said that there would be such a protest in the country that the oppressors and killers will be forced to face justice. He said that PAT rally in Multan held to protest lack of justice in Model Town case was a referendum against the rulers. He said that schedules for next rallies will be announced in due course of time. He said that if the rulers do not shun double standards in war on terror, they should be ready for severe public backlash.