Birthday Celebration of Beloved Quaid (Glasgow)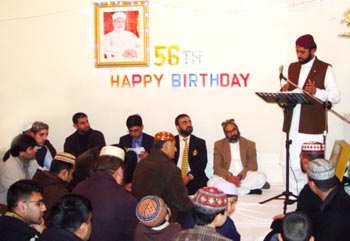 On Monday February 19th 2007 MQI Glasgow held a remarkable and outstanding celebration event in honor and celebration of our Beloved Quaid Sayedi Shaykh ul Islam Dr Muhammad Tahir ul Qadri. The event was graced by the presence of Hafiz Sheeraz Elahi (President NEC) and special guest Tahir Mohammed (Secretary General NEC). The celebrations included Speeches by Ameer et Tehreek Alama M.Shahid Babar, Hafiz Sheeraz Elahi and Tahir Mohammed. Also Naats read by MQI Glasgow Youths Mohammed Milad Raza and Faisal Mohammed along with others.
Birthday Card making Competitions were also held for the children and medals and gifts were given for 1st, 2nd and 3rd place. For the seniors a quiz competition was held where the participants were asked questions about Shaykh ul Islam and they were given a framed photo of Shaykh ul Islam as prizes.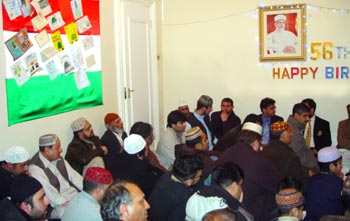 All of MQI Glasgow members including sisters were present at this exceptional program including executive members Abdul Wahid (President), Nazir Ahmed (Vice President), Riza Akhtar (General Secretary), Dr Khalid Mehmood (Deputy General Secretary), Adil Latif Butt (Finance Secretary), Sajid Iqbal (Press Secretary), Mohammed Ashraf and M.Ilyas Riaz (executive members).
The Program was concluded with a wonderful 2 tier Birthday cake in the honor of Shaykh ul Islam which was made by Baji Tasneem Babar and Alama M.Shahid Babar. Hafiz Sheeraz Elahi (President NEC) declared this as the biggest cake for Quaid Day in the UK. He also praised MQI Glasgow for their efforts and their great achievement.