Spiritual Head of the Chishti Order Visits Minhaj-ul-Quran International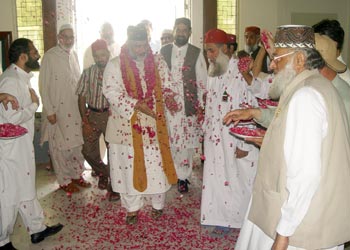 Repoted by : M. S Pakistani
Translated by : Ali Akbar Alvi (Minhajian)
The present spiritual head of the Chishti Order, from the holy City of Ajmair, revered Syed Sarwar Chishti visited Minhaj-ul-Quran International on the 15th May, 2007. Sahibzada Miskeen Faiz-ur-Rehman Durrani, Amir Tehreek, Dr. Raheeq Ahmad Abbassi, Naim-e- Aala, Senior Naib Amir-e-Tehreek, Syed Khalil-ur-Rehman Chishti, Ali Ghuzanfar Krarvi, G. M. Malik, Dr. Shahid Mehmood, Javid Iqbal Qadri and many other central leaders of Minhaj-ul-Quran International gave a warm welcome to the honourable guest. There were roses, roses on his way with myrtle mixed in them. They also garlanded him for his majesty and kind favour that he separated few moments from his precious time and honour Minhaj-ul-Quran International with his presence. He met Dr. Raheeq Ahmad Abbassi who gave him a detailed briefing over the achievements of Minhaj-ul-Quran International and its cause and objectives. After the briefing, he was led to the different departments of Minhaj-ul-Quran International and Gosha-e-Durood to give him a broad picture of the mission and services of Minhaj-ul-Quran.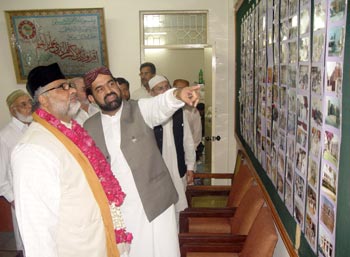 Later on, he had a special sitting with staff working at Farid-e- Millat Research Institute and the students of Minhaj University, Lahore. He said on the occasion that Islam is a religion of Peace, harmony and tolerance and the way Shaykh-ul-Islam is working as ambassador of Islam round the globe, and the way he is dissolving the existing misunderstandings about Islam in the west is more than praiseworthy. Today Minhaj-ul-Quran International is trying to reestablish spiritual values and cement them is really an important service to render. He said that Shaykh-ul-Islam's revivalistic efforts for Islam will be remembered till the day of reckoning.
He said that Minhaj-ul-Quran International had taken the responsibility on its shoulder to rebuild the ruin building of Islam and help the Muslims to get united like a body. He said, he can feel the fragrance of love, unity, discipline and Faith. He burst into tears and said the way Shaykh-ul-Islam is working may Allah Almighty help them to do for the Islam and Muslims.
He said, Shaykh-ul-Islam is trying hard as a spiritual guide for the young men and women and he has become a shield against ravaging conspiracies of the western civilization. He said, his written works is a great asset that would enlighten the way of Muslims till the day of judgment. The gathering ended with a special prayer. Then he was given a beautiful meal and said good-bye with thanks and gratitude.