Monthly Gathering of Gosha-e-Durood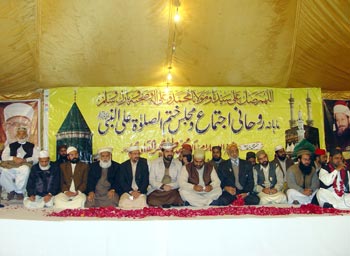 Reported by: MS Pakistani
Translated by: Amanat Ali Chaudhary
Two years have passed since the inception of Gosha-e-Durood of Minhaj-ul-Quran International. It was during the first week of December 2005 when Gosha-e-Durood was launched in the Central Secretariat of Minhaj-ul-Quran International. A special religious gathering marking the passage of two years since the establishment of Gosha-e-Durood was held in the ground in front of the Central Secretariat on December 7, 2007. Necessary arrangements were made for the provision of heating during intense winter including specifically decorated venue.
The proceedings of the programme started after around 7:30 pm with the recitation from the Holy Qur`an followed by Na`t. A large number of participants had gathered by then. A separate stage was put in place for the members of Gosha-e-Durood on the right side. The central stage featured the presence of respected guests with Central Amir-e-Tehreek Sahibzada Miskin Faiz-ur-Rahman Durrani in the chair. Nazim-e-Ala Dr Raheeq Ahmad Abbasi, Naib Nazim-e-Ala Sheikh Zahid Fayyaz, Nazim DFA G. M. Malik, Allama Mufti Abdul Qayyum Khan Hazarvi, Nazim Finance Javed Iqbal Qadri, Amir Gosha-e-Durood Al-Haaj Muhammad Salim Sheikh, Ahmad Nawaz Anjum, Haji Rahat Habib, Allama Farhat Hussain Shah, Allama Imdadullah Khan, Qaiser Iqbal Qadri, Haji Riaz Ahmad and Prof Zulifqar Ali and others were also among the guests.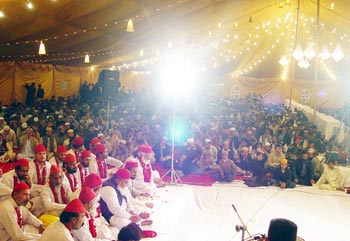 A large number of women also participated in the programme. Separate arrangement was made for them. Banners bearing welcoming slogans for the guests were erected around the venue. Ahmad Nawaz Anjum, Allama Farhat Hussain Shah and Mian Abur Rasool Sindhu conducted the proceedings collectively. Amir-e-Punjab Ahmad Nawaz Anjum presented report of Durood recited at the Gosha-e-Durood. He told the audience that the number of Durood recited has exceeded 2.75 billion.
Muhammad Afzal Noshahi, Minhaj Na`t Council, Al-Haaj Shahzad Hanif Madni and students of COSIS recited the Na`ts. Muhammad Afzal Noshahi also presented the special 'kalam' of Shaykh-ul-Islam upon which the participants got into spiritual ecstasy.
Shaykh-ul-Islam Dr Muhammad Tahir-ul-Qadri started his telephonic address from Canada. Speaking on the topic of 'Piety and Knowledge', he said that being awake throughout night for Allah's sake has been the way of those who enjoy Almighty's closeness. At the same time, no mystic can achieve complete gnosis without acquisition of knowledge. It is through staying awake at night that one comes to achieve nearness to Allah Almighty since it has been the way of Allah's Friends and the Companions during the early period of Islam. He said that the same could be achievable even today by acting upon their way.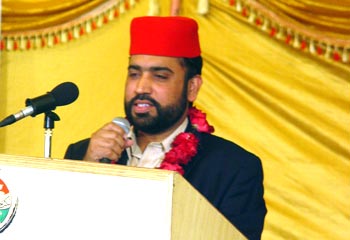 Talking of knowledge Shaykh-ul-Islam urged people to acquire such knowledge, which has the potential of changing their thought because unless change in thought occurred, change in life would not be possible. We have to change the thought of this nation and invest it with positive touch. That is why Minhaj-ul-Quran International is the universal movement for the revival and renaissance of knowledge and thought. He said that the preset age no doubt has educated people in abundance but they lack productive knowledge. Unfortunately the terminology of yester years has also undergone tremendous changes. In the olden times, the word 'mullah' was used to characterize a very learned and scholarly person but today it has come to be equated with derogatory meaning. This word has been replaced by word 'Allama'. Due to external intellectual onslaughts, such words have fallen in the ambit of terrorism and extremism. Therefore we have to bring about change in the thinking pattern of nation in addition to the new concepts of knowledge of contemporary times.
Shaykh-ul-Islam said that in accordance with the Hadith, there are two forms of knowledge: firstly productive knowledge and secondly knowledge, which if the human beings do not practise it rightly, will bear testimony against them. As per meaning of the same Hadith, there are two types of scholars: divine scholars and just scholars. Minhaj-ul-Quran International wants to transform Umma into not merely scholars but divine scholars having productive knowledge in this world and the world hereafter who devote themselves wholly to the service of humanity and spend their night in worship on the prayer-mat. Allah Almighty extracted promise from the people holding Book of Knowledge and ordained them to spread and propagate knowledge: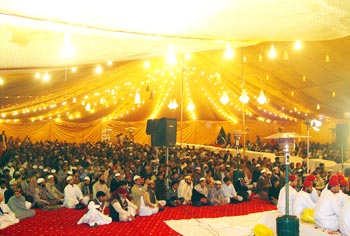 'And when Allah took a firm covenant from those who were given the Book: You shall clearly and plainly communicate it to the people and shall not hide (whatever is discussed in it).' (Qur`an, aal 'Imran, 3:187)
Quoting the above-mentioned verse, Dr Muhammad Tahir-ul-Qadri said that Minhaj-ul-Quran International was acting upon this Qur`anic commandment through its efforts for the spread of knowledge. Seeking a membership of the Tehreek also forms part of this struggle. He expressed his surprise about those people who were members of Minhaj-ul-Quran International but were devoid of knowledge and corresponding action. He urged all members and associates of the Tehreek to adopt the habit of recitation of Holy Qur`an daily and working hard for understanding the Holy Qur`an. He spelt out the clear meaning of recitation of the Holy Book dissociating it from its traditional association with events of deaths and death-related ceremonies. He expressed his sorrow over the fact that we had given up recitation of the Divine Book in our lives.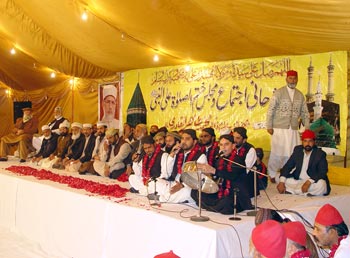 He said that Allah Almighty has given holders of true knowledge preference over the martyrs. Quoting Hadith, he said that status enjoyed by divine scholar in paradise would be such that there would only be a difference of level between his status and that of Prophets. He said that divine scholar is the one who has true knowledge or knowledge based upon truth. And that true knowledge is characterized by four characteristics:
Hard work is binding for the acquisition of true knowledge.
Man should have the realization that Allah has His right upon him which he has to render back.
One searching for truth knows it that death is his destination, which he has to search.
He should have the complete conviction that Allah knows his every state and condition.
Shaykh-ul-Islam said that any one in whom the above-mentioned four attributes are combined together, becomes divine scholar. We want to eliminate the darkness of ignorance and replace it with light of knowledge. This warrants a change and this change can only be brought about with the blend of knowledge and rightly-directed action.
After the conclusion of address of Shaykh-ul-Islam, Sahibzada Miskin Faiz-ur-Rahman Durrani led the offering of collective prayers.