Inaugural day of weekly celebrations under the aegis of Bazm-e-Minhaj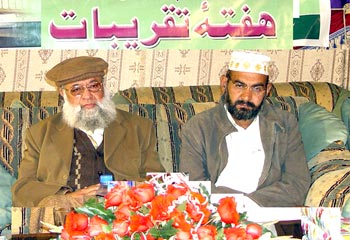 Translated by: Amanat Ali Chaudhary
Naat & Qarat competition was held on February 4 on the inaugural day of weekly celebrations under the aegis of Bazm-e-Minhaj in the College of Shariah and Islamic Sciences (Minhaj University). These celebrations are being held this year in connection with the 57th birth anniversary of Shaykh-ul-Islam Dr Muhammad Tahir-ul-Qadri. Central Amir-e-Tehreek Miskin Faiz-ur-Rehman Durrani presided over the moot, while Principal of the College Dr Raheeq Ahmad Abbasi was the chief guest at the occasion. Sheikh-ul-Hadith Allama Muhammad Miraj-ul-Islam, Mufti Abdul Qayyum Hazarvi, Prof Muhammad Nawaz Zafar, G.M. Malik, Sohail Raza, Sahibzada Ghulam Mustafa, Anwar Akhtar Advocate, Dr Masood Mujahid, Sohail Ahmad Raza and other leaders and guests were also present.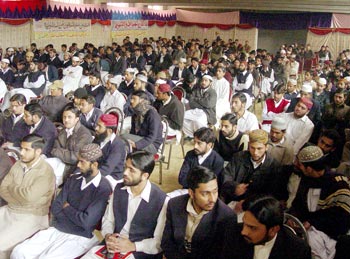 The programme started with the recitation from the Holy Quran by Qari Allah Baksh Naqshbandi. The students from almost all institutions and universities from across the country participated in this programme. Qari Sayed Hameed Kazami of COSIS, Hafiz Muhammad Zubair of Postgraduate College Bahulpur, Hafiz Ubaidullah of Government College Universit and Qari Ahmad Mujtaba of Jamia Rizwiay of Faisalabad won the first, second, third and fourth position respectively. In the Naat competition, Hafiz Unser Ali Qadri of COSIS, Asim Muneer of M.A.O. College, Asif Muneer of Govt. Dayial Singh Collee and Saad Farooq of Govt College University got first, second, third and fourth positions respectively. Dr Raheeq Ahmad Abbasi distributed the prizes among the winners.
Addressing the audience, Dr Abbasi said that Naat presented in the honour of the Holy Prophet (SAW) endows rare blessings on the presenter. Making Muslim Umma Naat-Khawan was dire need of the hour. It is binding upon us as Muslim not only to adopt the habit of the recitation of the Holy Quran but also revive our relationship with the Naat. Having arranged this programme, Bazm-e-Minhaj has acted upon the five elements of Minhaj-ul-Quran International. Allah Almighty has created man as crown of the creations and we should prove ourselves to be deserving of that by acting upon His commandments.