Muharram Mehfil in the city of Edinburgh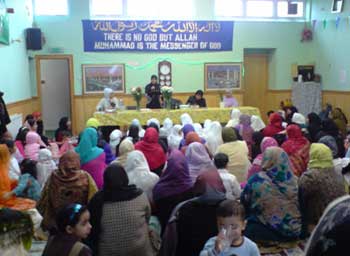 Venue:  Portobello Community Centre, Edinburgh
Date:  19th January 2008
By: MINHAJ SISTERS, SCOTLAND, U.K
It is by the grace of Allah Almighty and the Blessings of the Beloved Messenger (SAW) that Minhaj-ul-Quran Scotland held its first ever Muharram Mehfil in the city of Edinburgh.
The programme commenced with Sister Ambreen, Vice President of Minhaj-ul-Quran Women League Glasgow, welcoming the participants to the blessed gathering.  This was followed by Tilawat (recitation of the Glorious Quran) by Sister Tahira, who recited a few verses from Surah al-Baqarah.
There were also recitation of Manqabats and Naats throughout the programme by various sisters from both, Edinburgh and Glasgow.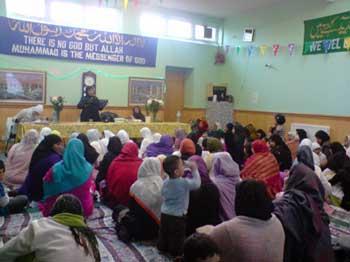 As the programme was to cater for the youth and the women, there was an English speech delivered by Sister Sweba Majid who discussed the topic of love of the Ahl-e-Bayt and also clarified the misconception in relation to Hazrat Ayesha Siddiqa (RA) and her father Hazrat Abu Bakr Siddique (RA).  She explained how loving the family and also the Companions of the Beloved Messenger (SAW) is a crucial aspect of our Imaan.  She highlighted the importance of the love and reverence of those personalities that were present at the time of the Beloved Messenger (SAW).
The speech was followed by a Naat by Sister Tasmia Younas and a Manqabat by Maheen Kousar.
Last but not least Sister Tasneem Babar delivered a speech in Urdu to cater for the Urdu speaking women.  Her speech focussed on how the martyrdom of Imam Hussain (AS) was in reality the martyrdom of the Beloved Messenger (SAW).  She explained the fact that every Du'a that was made by the Beloved Messenger (SAW) was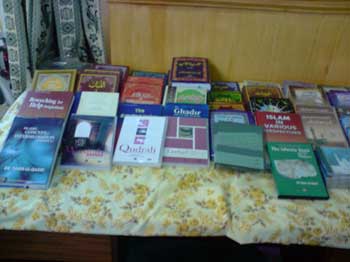 accepted in the court of Allah and the Beloved Messenger (SAW) had always desired to be martyred, however, this was not possible as the Beloved Messenger (SAW) demise, due to his status, had to be through natural means.  Therefore, bearing in mind the fact that the Du'a had to be accepted and that the demise had to be natural, Alalh (SWT) extended the chapter of the Beloved Messenger (SAW) life into the life of his grandson Imam Hussain (AS) and thus his martyrdom was in reality a chapter of the Seerah of the Holy Prophet (SAW).
Both speeches ended with the Message of Karbala and what lessons we should learn from the greatest sacrifice in the history of this world.
The Mehfil ended with recitation of Salutations and Greetings upon the Beloved Messenger (SAW), followed by distribution of food.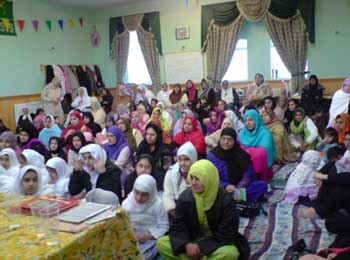 There was also a stall set up to promote the books and lectures of Huzur Shaykh-ul-Islam Dr Muhammad Tahir-ul-Qadri.