Memorial Service for Imam Qureshi's Mother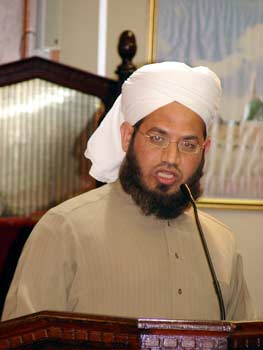 HUNDREDS of Muslims from across London ascended at the Minhaj al-Quran International Centre on the evening of Saturday 16th February 2008 to join in saying prayers for the late Jamila Khatun Begum, mother of Imam Muhammad Sadiq Qureshi.
Jamila Khatun Begum sadly died in the Pakistani province of Sindh on 31st December 2007 of natural causes. Ms Khatun initially migrated from Sindh in Pakistan bringing Shaykh Qureshi to the UK where he serves as an Imam at the Minhaj ul-Quran mosque.
Speaking at the memorial service Shaykh Qureshi chief Imam of the Minhaj al-Quran Centre expressing his appreciation of the overwhelming support he has received, at this difficult moment in life, said: "I am extremely thankful to everyone who has supported me and my family throughout this ordeal." Imam Qureshi also said: "My beloved mother will be greatly missed; I can only request everyone to humbly pray for her soul"
Ishtiaq Ahmad president of the Minhaj al-Quran centre, said: "We are still very deeply saddened of the recent loss our Imam Qureshi has had and we sincerely pray for him and his family."
Imam Ijaz Ahmad Nehrwi of the Jamia Siddiqia mosque on Barking Road in East Ham, told listeners: "Today we are present here to remember the beloved mother of a talented and versatile scholar and Imam." Praying for her soul, he said: "May Allah Almighty grant her the highest of abodes in paradise"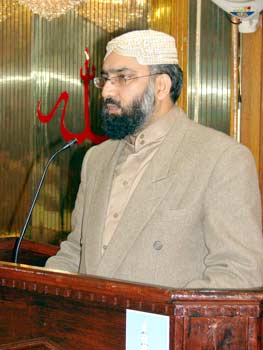 Shaykh Naeem Tariq Qadri, Imam of Leyton Muslim Centre in Leytonstone, said: "As prayers continue to be said for the mother of Imam Qureshi our prayers and deepest sympathy are with him." He also said: "From our Creator we came and unto him is our ultimate return"
Imam Jamshed Ahmad Saeedi of Ilford Islamic Centre on Albert Road in Ilford, speaking of the humble character of Imam Qureshi, Shaykh Saeedi said: "Surely his mother's soul also sees this and is very pleased with her noble son." He also said: "Our respected Imam Qureshi will miss his mother a lot but she certainly will not be deprived of his humble prayers"
The memorial service was also attended by Professor Nisar Ahmad Sulaimani, lecturer at the School of Oriental and African Studies, University of London, Dr Sulaimani said: "If we want to be thankful to God, we should be thankful to our mother and father." Dr Sulaimani announced a memorial in memory of the late mother of Imam Qureshi. The "Jamila Khatun memorial" would be erected in Pakistan.
Tributes were also paid at the memorial service by Newham Councillor Akbar Chaudary, Shaykh Sanaullah Sethi of Al-Habib mosque in Canning Town, Imam Harun al-Rashid of Al-Quba mosque in Forest Gate, Imam Tariq Mahmood of Al-Hira mosque in Upton Park and Councillor Dr Zulfiqar Ali chairperson of the Newham Alliance of Islamic Associations.
This report is NOT subject to copyright laws and may be utilised by the local press. You may print, copy or utilise it for research, if the latter, please notify us beforehand.
Media & External Affairs Secretary
Minhaj al-Quran International centre