Work continues on the construction of residential block of Gosha-e-Durood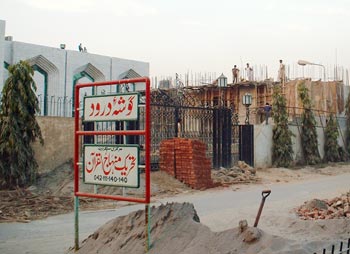 Reported by: M S Pakistani
Translated by: Amanat Ali Chaudhary

Heavy iron stuff has been used for construction of the lenter of the residential block. This phase will be completed in one month. Afterwards, the construction of the roof of residential block will be started. Two storied-building would have spacious and comfortable rooms where the participants in the Gosha-e-Durood would reside.

The construction of the minaret of "Minaret-us-Salam' is also under process with great vigour. Round wall is being built up on the ground allocated for the minaret which will be 80 feet high from the ground level. About 20% of the round wall has been constructed. Four large doors are also being made around the Minaret. The lenter work of these doors is also being done.

In addition to that, the construction work also continues in the newly built up hall of the Gosha-e-Durood. Its floor is being improved. This construction work is being completed very fast in three different parts of the building of Gosha-e-Durood. It is hoped that the construction of one phase of building will be completed till 12 Rabi-ul-Awal.

Along with the construction work, the soil is being stuffed in the foundations of Minaret-us-Salam. This soil is being taken from the large heaps lying in front of the Central Secretariat of Minhaj-ul-Quran.

Nazim-e-Ala Dr Raheeq Ahmad Abbasi and the construction team are very closely supervising the construction work.