Women day walks : Awakening Consciousness of Women Rights Among the Womenfolk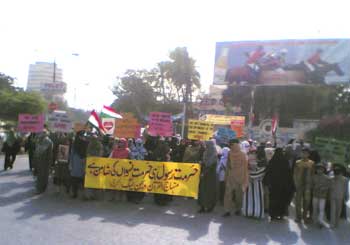 On International Women Day Minhaj ul Qur'an Women league celebrated this day in a very unique way. It was declared during the walks on Women day in Lahore and Karachi that in order to show that Islam is the real protector of women's rights the emmense contribution to women's rights made by the Holy Prophet (saw)  was to be highlighted by showing loyalty and commitment to him.  Due to recent publication of blasphemous material against him the women raised a voice for Namoos-e-Mustafa (saw). Both of the walks culminated in resolutions being passed against the re-publications of blasphemous caricatures. The speakers present said that governments should take strong steps for Namoos-e-Risalat (saw) and to pay their role to stop the expressions of blasphemy. Minhaj-ul-Qur'an Women League made strong demands that there needs to be a balance between the freedom of expression and the right not to be insulted or demeaned by others especially if highly esteemed and revered religious personalities are ridiculed and demeaned in the name of freedom of speech.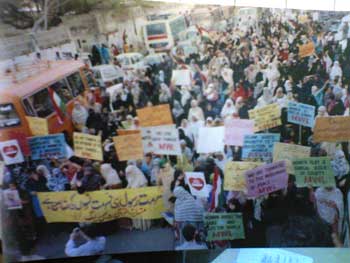 Central Minhaj ul Qur'an Women league and women league Karachi arranged very marvelous and inspiring walks on 8th March on the occasion of International Women's day.
One walk took place in Lahore in front of the Press club. Sisters from Lahore were present in the walk. They were holding placards, banners, posters and big candles. Statements on them were showing great love and devotion with the Holy Prophet (saw). This candle walk was after Maghrib prayer which continued for more than one hour. It started from Shimla hill and ended in front of Press club. Many representatives of different news papers and news channels were there. Razia Saheen (central director Tanzimaat, women league Pakistan) presented the resolution in  Urdu and Rabia Urooj Malik (central convener for students' affairs) presented condemnatory resolution. The walk ended on a dua.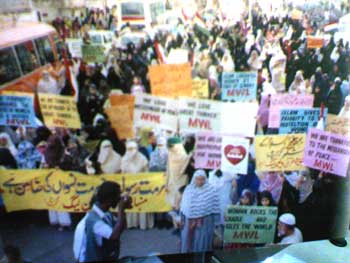 The other walk was held in Karachi which lasted for more than two hours. The walk started from Karachi Jang press and ended at Karachi press club. Thousands of women from far and near areas of Karachi, and from different schools of thoughts were there to show unity against blasphemy of Huzoor SAW.  Mrs. Imtiaz Javed (Director women league Sindh), Mrs. Parveen Mustafwi (Director women league Karachi) and Central Director Women league Mrs. Farah Naz lead the walk. These speakers also presented the same resolution in a forceful way. They also had a truck decorated with different placards and banners. This truck had a sound system and songs of commitments were played on that. Many news channels specially highlighted this walk as special activity on Women Day having great relevance and devotion with our Beloved Holy Prophet SAW.