Creating love culture through ardent love for the Holy Prophet (saw)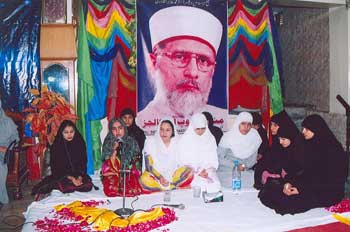 On 3rd April 2008, Minhaj Degree College Qainchee arranged a very beautiful mehfil to show their love for Holy Prophet (SAW) and for the great purpose of Namoos e Risalat (SAW). Students of the College, staff and especially the principal Juveria Hassan arranged it.  The Program was presided by Mrs. Huma Raheeq Abbassi while Mrs. Farah Naz delivered special Address. Saba Sadiq (MPA) was the guest of honor. More than 1500 students attended this programme from different colleges of Lahore city.
The program was initiated by sister Kausar (Minhaj Degree college Qainchee) and Sajjal Khan (Famous Naat Khawan Ptv) recited a very beautiful Naat in her specific style. Sidra Kanwal (Naat Khawan Radio TV) and Shabina Majida (Qtv) also recited beautiful kalaams and salutations. Naat council from Central Minhaj College for Women recited beautiful Naats, which were being appreciated much. Mrs. Huma Raheeq presented a  special talk to the  audience that we should go back to the path of Islam, and we should lead the life according to the orders of the Holy Prophet (SAW). Mrs. Saba Sadiq appreciated the setup and efforts of Minhaj-ul-Qur'an International. Mrs. Farah Naz addressed the audience on "Namoos-e-Risalat SAW" and at the end, a resolution was passed out on Namoos-e-Risalat SAW. Programme was ended with dua.
May God bless us all with His Blessings. Amin Bajahay Sayyadil Mursalin SAW.
By Sister Rabia Urooj