Funeral prayers of late Allama Muhammad Anwar Qureshi offered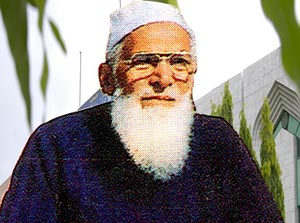 Translated by: Amanat Ali Chaudhary
Former patron of Minhaj-ul-Quran International Allama Muhammad Anwar Qureshi passed away yesterday. The funeral prayers for the departed soul were offered today on April 4, 2008 (Friday) at 1:45 p.m. in the Muzumal Mosque, Lahore. Central Amir Allama Miskin Faiz-ur-Rehman Durrani led the funeral prayers. In addition to a large number of people of the area, the central leadership of MQI attended the funeral prayers.

Late Muhammad Anwer Qureshi was an old man and was ill for last few years. He was basically an engineer and played effective role during Pakistan Movement in his student days. He served at higher position as Member in WAPDA and adopted the service in the way of religion after his retirement. He established an organization named "Anjuman Khuddam-ul-Quran' for preaching Islamic teachings and published dozens of booklets under it.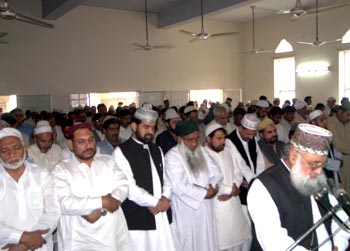 He met Shaykh-ul-Islam Dr Muhammad Tahir-ul-Qadri in 1984, got impressed by his missionary zeal and energy and merged his organization into Minhaj-ul-Quran. He served MQI in various capacities such as Nazim-e-Ala, President and Patron. His heart was filled with the love of Allah and His Prophet (saw). He had his spiritual allegiance in the Naqshbandi Silsila of spiritualism.

Shaykh-ul-Islam Dr Muhammad Tahir-ul-Qadri expressed his deep grief and sorrow over the death of Allama Muhammad Anwar Qureshi and prayed to Allah to rest his soul in peace. He said that late Qureshi sahib was pious man who devoted his life for the service of religion. He rendered enviable services for Minhaj-ul-Quran International, which will be remembered for ever.  Nazim-e-Ala Dr Raheeq Ahmad Abbasi and Dr Ali Akbar Qadri also paid him rich tribute due to his services for the Mission.