Mehfil-e-Milaad-e-Mustafa (S.A.W.) & Pyambar-e-Aman Conference, Chakwal, Pakistan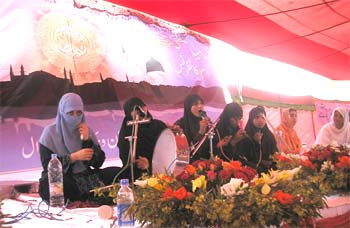 Date: 22th March 2009
Venue: Eid Gah ground, Chakwal. Pakistan.
Organizer: Minhaj-ul-Qura'n Women League. Chakwal.
Speaker: Razia Shaheen. Director Tanzeemat. Minhaj-ul-Qura'n Women League
Participants: 8,000
Naat Khawn: Minhaj Naat Council Chakwal, Sister Zahida Qadri,Awaisi Group. Lahore.
Stage Secretary: Rafia Urooj Malik. (Director Minhaj-ul-Qura'n Women League. Chakwal.)
Special Guests: Mrs.Iffat Liaquat (MPA),Mrs. Nain Tara Sarfaraz (PPP), Mrs. Munnaza Sheikh (Principal of Govt. Women College Chakwal), Mrs. Naureen Bahadur (Principal of Myer's College)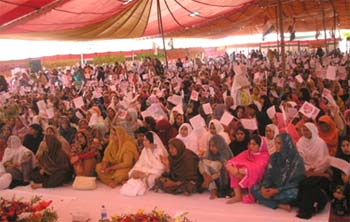 By the Grace of Allah Almighty & the blessings of His Holy Prophet Muhammad(S.A.W.) and the fayz of Shaykh-ul-Islam Prof. Tahir-ul-Qadri the great 4th annual ceremony of Mehfil-e-Milaad-e-Mustafa (S.A.W.) Pyambar-e-Aman Conference was held on Sunday at 9am in the Eid Gah Ground Chakwal. Preparations for this ceremony were on the full swing right from the very beginning of the Holy month of Rabi-ul-Awal. All people of the society were invited to participate. Representatives from almost all the schools, colleges and NGO's participated actively & showed their love for our Prophet Muhammad (P.B.U.H.). This was the biggest ever function held in the history of Chakwal. For the first time about 8,000 women gathered to celebrate the birth of their beloved Prophet Hazrat Muhammad (PBUH). Mehfil-e-Milaad's duration was 9am to 2pm.
Miss Hajira Qadri recited verses from The Holy Quran, and then Miss Zahida Qadri presented Hamd-o-Naat. Minhaj Naat Council (Chakwal) recited Nasheeds very beautifully. Minhaj Naat Council Lahore (Awaisi group) performed Naat with the help of Duf.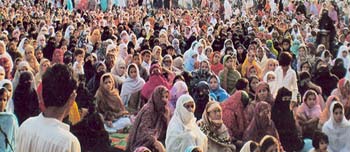 A beautiful lecture was delivered by Miss Razia Naveed which touched the heart of every participant. Alhamdulillah, the message of Ishq-e-Rasool (S.A.W) & Minhaj-ul-Qura'n was delivered in a meaningful way. In the end Miss Rafia Urooj Malik's prayer brought tears to every eye.
Introductory literature of Minhaj-ul-Qura'n Women League and Al-Minhaj-us-Sawi (an exemplary book on Hadith written by Hazoor Shykh-ul-Islam Prof. Dr. Muhammad Tahir-ul-Qadri) was gifted to the honorable guests.
May Allah Almighty accept our efforts!!!
Ameen.