MWF distributes cash and other gifts among flood victims in Charsadda
On the instructions of Shaykh-ul-Islam Dr Muhammad Tahir-ul-Qadri, different delegations of Minhaj Welfare Foundation spent Eid-ul-Fitr with the flood affectees. A delegation led by Muhammad Bilal Mustafavi celebrated Eid with the flood victims of Charsadda and Larama. The other members of delegation included Muhammad Yousuf Yafoor (former MSM president), Muhammad Rizwan Shahid (senior journalist and chief executive of E-Travel), Ilyas Shams Butt and Nazia Mujahid (coordinator for relief affectees KP).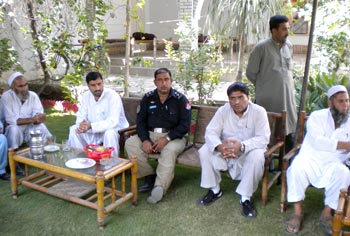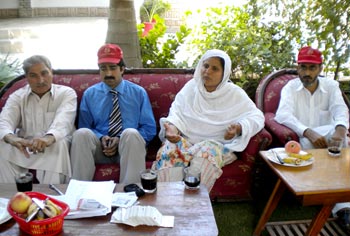 The delegation reached Charsadda at 10 a.m. on the Eid day where the members of delegation were given a warm welcome by renowned social and political personality Arbab Nazir. The delegation held a meeting with the local flood affectees. Cash was distributed among the flood affectees there. Afterwards, the delegation reached Union Council Larama where cash money was distributed among the affectees living in the camp set up by the local community. A ceremony of cash distribution was held at the place of renowned social personality Malik Mughal Khan. The central leaders distributed cash among the 50 families on the occasion.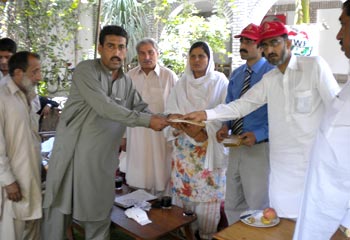 Speaking on the occasion, Bilal Mustafavi said that the delegation had come with the message of Eid and well being from Shaykh-ul-Islam Dr Muhammad Tahir-ul-Qadri for the flood affectees. He said that MWF was with the flood affectees at this hour of trial and need on the instructions of Shaykh-ul-Islam. He assured the flood victims that relief operations would continue until their complete rehabilitation.
Coordinator Nazia Mujahid briefed the media about the relief activities in Khaiber Pakhtunkhwah (KP). She said that Shaykh-ul-Islam has already declared to accommodate 500 orphan children in the Orphan Care Home (Aghosh) where they would be provided with all residential, educational and other facilities. The registration is underway, she added.
Malik Mughal Khan, the host of the ceremony, said that they were thankful to Dr Muhammad Tahir-ul-Qadri and MWF who stood by them in this hour of trial and tribulation. He told that cash was distributed among the 50 families here. Later on, the delegation also visited neighbouring areas and distributed cash there.