Shaykh-ul-Islam holds parliament responsible for the current crisis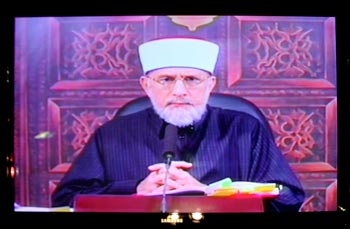 Shaykh-ul-Islam Dr. Muhammad Tahir-ul-Qadri has said that parliament has failed completely in discharging its role and is responsible for the mess the country is in. Media is doing the agenda setting, which is otherwise the role of parliament. He demanded the establishment of Commission against Terrorism under the leadership of Chief Justice of Pakistan. He said that media should raise its voice against a system, which is protecting corruption. Dr Muhammad Tahir-ul-Qadri expressed these views while delivering his keynote address to the concluding session of Majlis-e-Shura of MQI
He regretted that there is no shortage of so-called religious scholars who justify the actions of terrorists. It is also responsibility of media to expose the supporters, financers and sympathizers of terrorists and extremists. He demanded that parliament should meet for two weeks to legislate on the terrorism issue for its complete elimination. He said that it is a common knowledge as to identity of backers and intellectual supporters of terrorism.
Dr Muhammad Tahir-ul-Qadri said that those protecting the terrorists are present in the parliament and media should hold the politicians accountable for their actions and inactions. He demanded that the sources of support and supply of arms and ammunition should be unearthed. He asked about the outcome of the investigations carried out into scores of incidents of terrorism and sought the invisible hand to be exposed.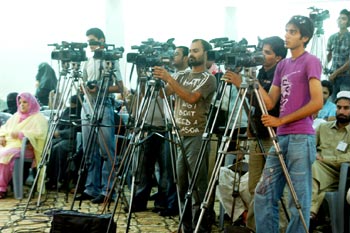 Dr Muhammad Tahir-ul-Qadri criticized the role of parliamentarians, saying that MNAs and MPAs know everything about terrorists in their constituencies but are maintaining criminal silence due their vested interests. He blasted the inaction of the parliament and said that the country is being turned into Somalia, Ethiopia and Afghanistan and those entrusted with the responsibility of steering the ship of the state are keeping mum. He said that the politicians have neglected the national interest for the sake of their petty interests.
Shaykh-ul-Islam said that the monster of terrorism has destroyed the country and no place such as Markets, Bazars, Public places and Shrines are safe from the evil actions of terrorists. He said that when politicians break record of corruption, it paves the way for military takeovers. General Musharaf compromised on national honor, security and interests and turned the country into a colony. He warned the ruling elite of the day when people would take to the street and nothing would be left. He said that MQI is against terrorism in all its forms and manifestations and it condemns terrorism in the strongest possible words. He said that those shedding innocent blood are neither Muslims nor Pakistanis. He demanded of the government to crush down terrorists wholly.