Dr Muhamamd Tahir-ul-Qadri cancels Itikaf 2010 for the help of flood affectees

In the wake of unprecedented floods that have wreaked havoc across Pakistan besides rendering 20 million people homeless and causing damages of billions of dollars, Shaykh-ul-Islam Dr Muhammad Tahir-ul-Qadri has declared to cancel Itikaf 2010. The Itikaf has been held annually for last 20 years under the banner of Minhaj-ul-Quran International, which is attended by thousands of people. He ordered thousands of the prospect participants of Itikaf and workers of MQI to dedicate themselves wholeheartedly for the welfare of the flood stricken people. He also declared to donate Rs. 30 million, which were to be incurred on holding Itikaf, for the flood victims. Dr Muhammad Tahir-ul-Qadri also ordered the workers, and associates of MQI to spend ten days of Itikaf and the Eid Day with the flood affectees. He said that those who would serve the victims of the worst ever natural calamity would get reward from Allah Almighty.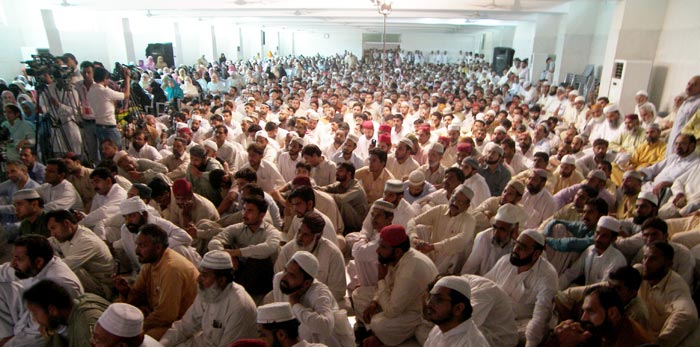 He expressed these views while addressing a meeting of the Majlis-e-Shura of Minhaj-ul-Quran International yesterday through video conferencing from London. The meeting was attended by more than two thousand office holders of MQI from across Pakistan. Dr Muhammad Tahir-ul-Qadri urged the prospect participants of the Itikaf to spend on their brethren to alleviate their difficulties and mitigate their sufferings. He also advised MQI workers and associates to celebrate Eid with utmost simplicity and spend the money for the welfare of the flood hit people instead of shopping for themselves. He said that those who would not comply with his instructions would have nothing to do with him. He declared that Minhaj Welfare Foundation would take up the responsibility of providing for 20,000 families. He told that relief goods of worth 300 million rupees have been dispatched to the flood affected areas so far through seventy trucks. Minhaj Welfare Foundation has also set up various Tent Settlements in different parts of the country where thousands of flood victims have been accommodated. He also advised the thousands of students of 573 Minhaj Model Schools and Colleges and its staff to serve the flood affectees till the day of Eid. He declared that these schools should be converted into relief camps where all facilities should be provided to the flood victims.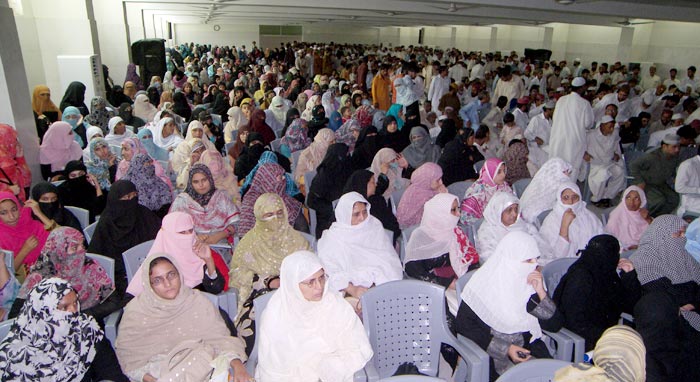 Dr Muhammad Tahir-ul-Qadri also asked the doctors and paramedical staff associated with MQI to take leave from their respective jobs and dedicate themselves to the service of our brothers, sisters and children stranded in water. He said that MQI's Orphan Care Home (Aghosh) would accommodate 500 children from the flood affected areas and provide for their upbringing and education. He also asked the affluent sections of society and well to do people related with MQI to start public food schemes (Langar) and leave no stone unturned to help the flood victims. He said that the nation is confronted with a great challenge and it is our responsibility to rise to the occasion.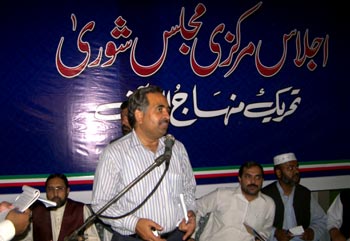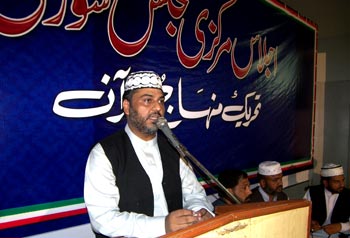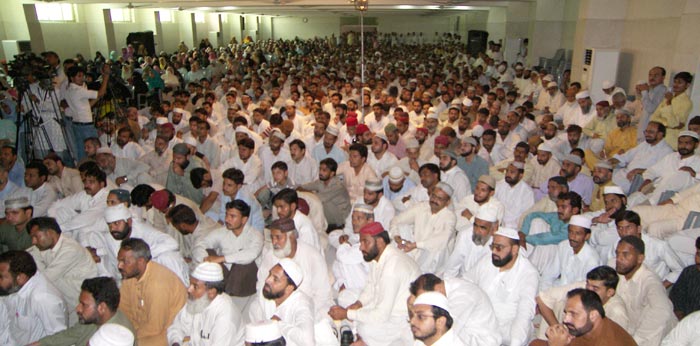 Flood Relief Report
1. Minhaj Khema Basti - 3
| | |
| --- | --- |
| City | Dependent Persons |
| Noshera | 600 |
| Akora Khatak | 300 |
| Larkana | 250 |
| Total | 1150 |
2. Flood Relief Camps - 35
City
Camps
Persons
Karachi
01
250
Rajanpur
02
400
Kotla Nasir
10
3000
Karor Lal Essan
05
700
Trag Sharif
10
1000
Kot Mithan Sharif
01
100
Muzaffargarh
01
50
Kot Addu
01
50
Tonsa Sharif
01
100
Fazilpur
01
100
Jampur
01
100
Guddu (Sindh)
01
150
Total
7150
3. Areas where relief goods, tents and ration were distributed
Province Punjab: Bhakar, Trag Sharif, Karor Lal Essan, Layyah, Rajanpur, Kotla Nasir, Kot Mithan Sharif, Muzaffargarh, Kot Addu, Tonsa Sharif, Fazilpur, Jampur
Province Baluchistan: Barkhan, Dera Allah Yar, Oosta Muhammad, Jhat Pat, Suhbar Pur, Bakhtiar Abad, Sibbi
Province Sindh: Bhan Syed Abad, Dherki, Sukkur, Jackob Abad
Khyber Pukhtonkhawa: Paharpur, Dera Ismail Khan, Swat
4. Delivery of relief goods
| | |
| --- | --- |
| Truck | 70 |
| Amount | 30 Million |
| Goods | Flour, Ghee, Pulses, Tea, Milk, etc |
The number of families given tents - 775

Relief through medical camps - 30 lac rupees

The number of volunteers busy with relief work - 10000

The number of families being provided monthly ration - 6900

The number of ambulances provided for flooded-stricken areas - 06