Minhaj Welfare Foundation spends Rs. 120 million on flood victims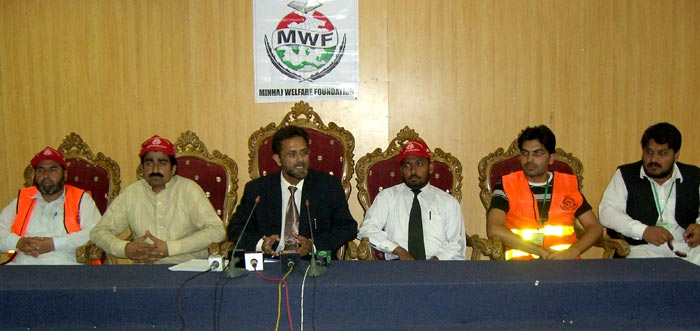 Iftikhar Shah Bokahri, Director of Minhaj Welfare Foundation, has said that more than 12000 workers and hundreds of volunteers of Minhaj Welfare Foundation are working for the rehabilitation of the flood victims on the instructions of Shaykh-ul-Islam Dr Muhammad Tahir-ul-Qadri. The Foundation has so far spent Rs. 120 million on the rehabilitation of the flood affectees. 300 families have been given Rs. 15000 each, while 170 trucks of different goods have been dispatched to the flood affected areas. 2122 families have been given tents, whereas basic facilities are being provided to 11500 people. In addition to that, ration is being handed over to 10,000 families on monthly basis. 35 medical camps and 25 mobile dispensaries are working. 58000 people have been provided medical treatment so far.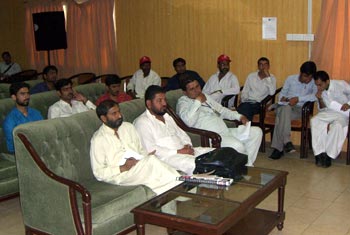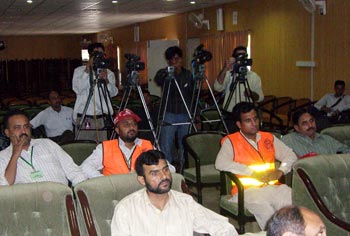 Iftikhar Shah Bokhari expressed these views while addressing a press conference in the Islamabad Press Club yesterday.
Bilal Mustafavi; central deputy coordinator, Raja Sajid Mahmood; naib Nazim of MQI (Punjab), Mirza Asif Qadri; Amir of MQI Rawalpindi, Ibrar Raza Advocate; president of MQI NA-48, Bashir Hussain Shah; president of NA-49, Arif Hashmi; central secretary Information of Minhaj-ul-Quran Youth League, and Sohail Abbasi, provincial coordinator were also present on the occasion.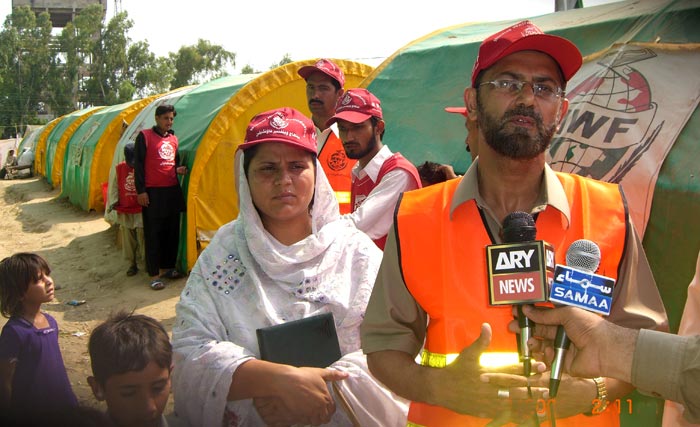 Iftikhar Shah Bokhari said that 6000 people have been accommodated in 21 Minhaj Tent Settlements in Noshehra, Akora Khattak, Kot Mitthan, Rujhan, Rajanpur, Kotla Naseer, Larkana and Shikarpur. The construction of tent settlements in Kashmore, and Saeedaabad is also underway. He said that on the instructions of Shaykh-ul-Islam Dr Muhammad Tahir-ul-Qadri, 20, 000 families are being registered who would be provided with monthly ration. Out of the registered people 3000 are from Khyber Pukhtunkhawa, 10,000 from Southern Punjab, 4000 from Sindh and 3000 from Balochistan. Shelter homes would be constructed for these people, while their children would be given free education in the Minhaj Model Schools and Colleges. He said that Shaykh-ul-Islam has already declared to accommodate 500 children in Agosh (Orphan Care Home) where they would be provided with all facilities of upbringing, education and residence and Minhaj Welfare Foundation would bear the cost till their marriage. Iftikhar Shah Bokhari said that the people of those areas from where water has receded have started going back to their areas. MWF is providing them ration on monthly basis and tents for shelter.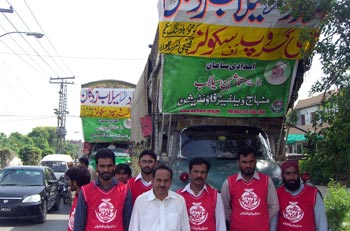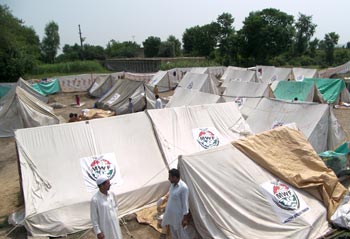 Iftikhar Shah Bokhari demanded of the government to at least give 0.3 million to each family which has lost everything including house, livestock and source of income. The registration process under NADRA should be clear and transparent. He also asked the government to build up small-sized dams to take care of the calamity in the future. Appreciating the services and role of volunteers of MQI, Pak army, media and people at large, he said that all efforts need to be made till the complete rehabilitation of all flood affectees. The chief highlights of the relief operations carried out by Minhaj Welfare Foundation are: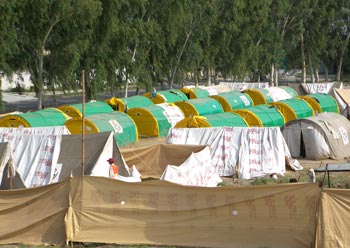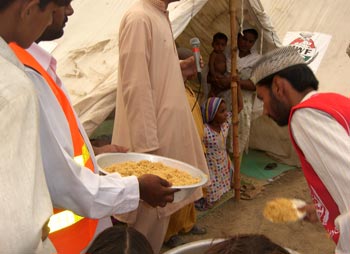 170 trucks carrying food grain sent
300 families given 15000 rupees
2122 families handed over tents
6000 people are living in 21 tent settlements, while 5500 people have been accommodated in 128 camps.
11500 people are being completely provided for, while ration is being provided to 10,000 families monthly.
20, 000 would be provided monthly ration after the process of their registration is complete.
35 medical camps and 25 mobile ambulances are working in the flood affected areas.
58000 families have been given medical relief.