Minhaj Welfare Foundation launches rehabilitation plan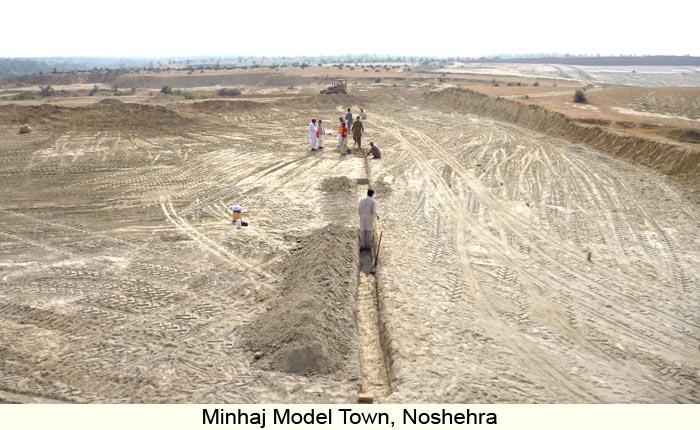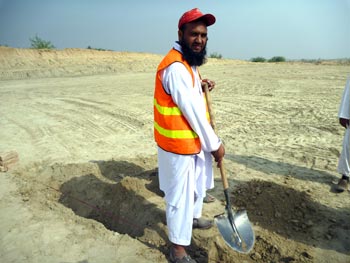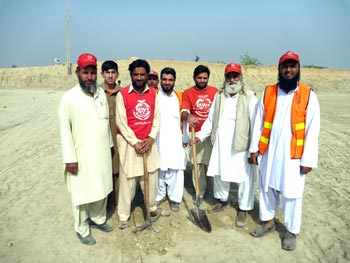 On the conclusion of temporary phase of rehabilitation of the flood victims, Minhaj Welfare Foundation has launched different programs for their permanent rehabilitation of the flood affectees. 85 houses in Noshehra and 13 houses Mumtaz Abad Multan have been constructed. Iftikhar Shah Bokhari, director of MWF, expressed these views while issuing complete report of rehabilitation efforts to the media the other day. He said that MWF started its rescue, relief and rehabilitation operations on July 26, 2010 and tent settlements were put up in Noshehra and Akora Khattack. Rescue service was also initiated and those trapped in the waters were rescued in the first phase. 21 tent settlements and 28 relief camps were established to give the flood affectees lodging facilities, which housed 11825 people. 339 truckloads of relief goods were dispatched to the flood-hit areas and necessities of life were distributed among the affectees. Around 9500 volunteers and workers of Minhaj Welfare Foundation rendered their services in different areas for four consecutive months.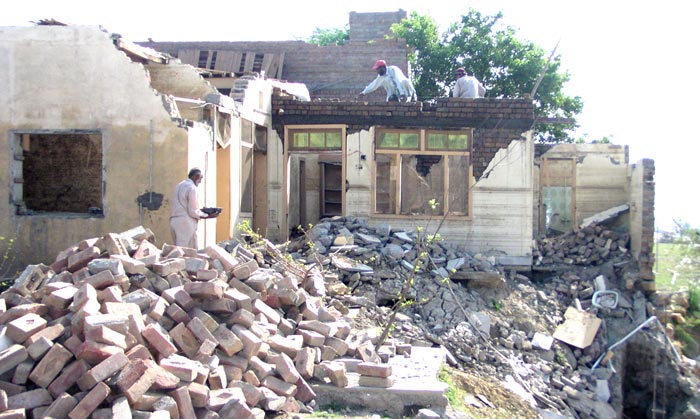 MWF established 432 relief collection camps for collection of donations. 4050 workers participated in the campaign. More than 70 thousand people got medical treatment from 125 medical camps set up by Minhaj Welfare Foundation to respond to requirements of health care. Minhaj Ambulance and mobile dispensaries also remained busy in their operations in ten cities. 500 volunteers belonging to medical field including doctors also dedicated themselves to the service of the flood affectees.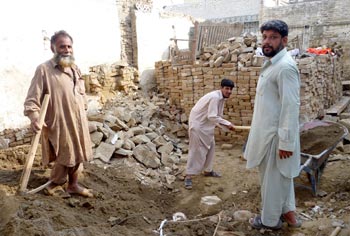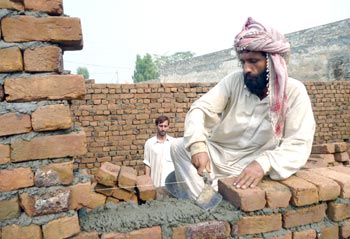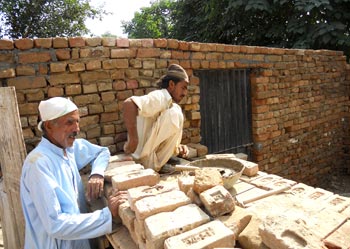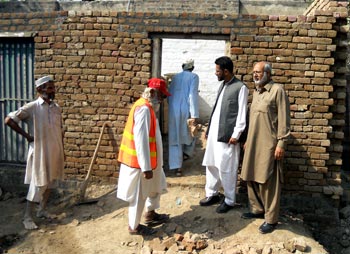 Throwing light on more details, Iftikhar Shah Bokhari said that 3700 families were provided with free ration for two months. MWF established temporary schools in the Minhaj Tent Settlements to cater to the educational needs of the students besides celebrating the 14th of August with traditional zeal and zest. Complete 'Sehri & Iftar' arrangements were made for the flood affectees during the hoy month of Ramadan. Hundreds of office holders, workers and volunteers of MQI spent thirteen days including the three days of Eid in the service of the flood victims on the special instructions of Shaykh-ul-Islam Dr Muhammad Tahir-ul-Qadri.
Iftikhar Shah Bokhari said that MWF made arrangements for collective sacrifice in 29 flood-hit cities and the meat of sacrificed animals was also distributed among the flood victims. On the conclusion of the second phase, 170 families of Noshehra and Akora Khattack went back to their respective homes and areas.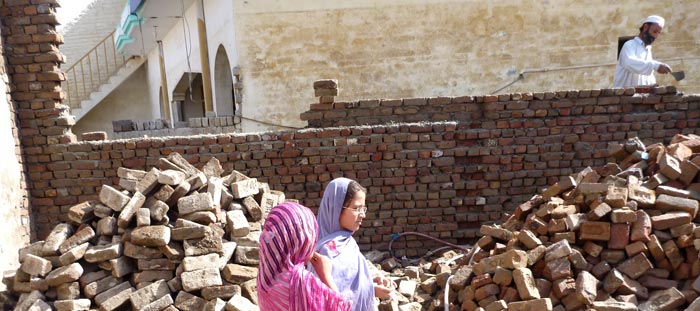 Director of MWF told the newsmen that programs dealing with the permanent settlement and rehabilitation of the flood victims have been launched in the third and final phase. 500 families residing in Minhaj Tent Settlements and its whereabouts in Noshehra have been given financial assistance to help them repair their damaged homes. MWF has spent millions of rupees on the construction of 85 houses in Noshehra and 10 houses in Multan. He said that MWF has also purchased four-kanal land to construct Minhaj Model City there. It also plans to build up Minhaj Model Schools in the flood affected ten cities. The plan of construction of Minhaj Model Villages in the Southern Punjab and flood-hit areas of Sind is also in the pipeline.
Progress Report regarding Flood Affectees
Serial No.
 
 Number
Maintenance
Expenses
1
Minhaj Tent Cities (Big)
9
 Expenditure per Tent Cities
9x700,000
6,300,000
2
Minhaj Tent Cities (Small)
12
Expenditure per settlement
120x7000
840,000
3
Minhaj Relief camps
29
Individuals 11,825x1000
11,825,000
4
Number of Trucks (ration and others)
339
400,000 per truck (Ration, Tents, Medical Camps, Doctors, Paramedical staff)
110,805,586
5
Cash paid to families

Cash for house repairs

150x50,000=7,500,000
50x35,000=1,750,000
300x10,000=3,000,000
50,000 per family (Noshehra)
35,000 per family (Akora)
10,000 per family (Other families)
12,250,000
6
Ambulance & Mobile dispensaries
10
10x25000
Expenditure per ambulance
250,000
7
Doctors & paramedical staff
500
500x2000
Travel expenses
1,000,000
8
Transportation
339 Trucks
15000x339
per Truck
5,085,000
9
Medicine
Number of mobile & other camps
125x25000
 
3,125,000
10
Dispatch of monthly ration (Miscellaneous)
 

Families
3,700 x 2 x = 2,000

14,800,000
11
Publicity expenditure
 
 
1,800,000
12
Travel expenditure (supervision & monitoring)
 
 
1,500,000
13
Miscellaneous expenditure on Tent Cities
 
Marriage in Tent Cities,14th of August function, ceremony of Help Caravan
1,500,000
14
Relief expenditure on Eid
 
Gifts and other things sent by local chapters of MQI
5,000,000
15
Volunteers
9,500
 
 
16
Relief collection camps
432
Workers 4050
 
17
Medical relief
125
70,000 individuals
 
Total
 
176,080,586
18
Distribution of meat on Eid-ul-Adha
Expenditure of collective sacrifice in bigger cities
Expenses on big animals 29,400,000
Expenses on small animals 8,125,000
Other expenditure 4,500,000
Total Expenditure 42,025,000
 

Grand Total: 218,105,586
Sr. No
 Station
Tents
Under care
Families
Expenditure
Remarks
1
Minhaj Tent Cities Noshehra
90
700
125
1,647,500
+
1,200,000
Established by MWF on 29 July till Nov. 30
2
Tent Cities Akora Khattak
35
250
35
650,000
+
600,000
Established by MWF in Aug. till Nov. 30
3
Tent Cities Larkana
50
700
100
1,647,500
Established in August till mid-Sept, sponsored by Pir Yasir from Australia
4
Tent Cities Rajanpur, Kotla Nasir
50
510
70
1,647,500
From August to September established Lahore chapter of MQI
5
Tent Cities Fazilpur
25
255
35
650,000
Established by Lahore chapter of MQI for one month
6
Tent Cities Muhammadpur Dewan
25
210
30
650,000
Established by Lahore chapter of MQI for 22 days
7
Tent Cities Shikarpur
50
525
75
1,647,500
Established under supervision of Sajid Mahmood Bhatti and sponsored by Mr. Yasir from Australia
8
Tent Cities Karachi
50
510
56
1,647,500
Established & sponsored by the Karachi chapter of MQI for two months
9
Tent Cities Baan Saeedaabad
25
250
35
650,000
Established under supervision of Sajid Bhatti, 25 tents provided by secretariat and financed by local chapter
Total
400
3,910
561
12,037,500
 
Minhaj Tent Cities (Small) Total Number 12
These Tent Cities, which consisted of 5-10 tents, were established in Rajanpur and Kot Mitthan. The local chapters provided tents and ration for one month. Additionally, MQI Faisalabad established a Tent Cities of seven tents in Kot Mitthan.
| | | | | |
| --- | --- | --- | --- | --- |
| Sr. No |   | Per item | Number | Total Price |
| 1 | Tents | 11,500 | 50 | 575,000 |
| 2 | Pedestal fans | 3,000 | 50 | 150,000 |
| 3 | Mats | 1,000 | 50 | 50,000 |
| 4 | Water cooler | 300 | 50 | 15,000 |
| 5 | Buckets | 150 | 50 | 7,500 |
| 6 | Crockery | 300 | 50 | 15,000 |
| 7 | Blankets | 1,000 | 100 | 100,000 |
| 8 | Pillows | 100 | 250 | 25,000 |
| 9 | Construction of wash rooms | 30,000 |   | 30,000 |
| 10 | Electricity goods | 30,000 |   | 30,000 |
| 11 | Kitchen items | 10,000 |   | 10,000 |
| 12 | Miscellaneous | 10,000 |   | 10,000 |
|   | One-time total expenditure on construction |   |   | 1,017,500 |
| | |
| --- | --- |
| Total monthly expenditure Tent Cities | 315,000 |
| Monthly expenditure for two month | 630,000 |
| Total expenditure | 1,647,500 |
| | | | | |
| --- | --- | --- | --- | --- |
| Sr. No |   | Per item | Number | Total Price |
| 1 | Tents | 5,000 | 25 | 125,000 |
| 2 | Pedestal fans | 3,000 | 25 | 75,000 |
| 3 | Mats | 1,000 | 25 | 25,000 |
| 4 | Water cooler | 300 | 25 | 7,500 |
| 5 | Buckets | 150 | 25 | 3,750 |
| 6 | Crockery | 300 | 25 | 7,500 |
| 7 | Blankets | 1000 | 25 | 25,000 |
| 8 | Pillows | 100 | 125 | 12,500 |
| 9 | Construction of wash rooms | 15,000 |   | 15,000 |
| 10 | Electricity goods | 15,000 |   | 15,000 |
| 11 | Kitchen items | 10,000 |   | 10,000 |
| 12 | Miscellaneous | 10,000 |   | 10,000 |
| 13 | Pump installation (two) | 20,000 |   | 20,000 |
|   | One-time total expenditure on construction |   |   | 351,250 |
Monthly Expenditure of Minhaj Tent Cities: two or three time meal, technical staff, honorarium of guard, daily bread baking, etc. 30x500=150000
| | |
| --- | --- |
| Construction of Tent Cities (Total one-time expenditure) | 350,000 |
| Monthly Expenditure of Tent Cities (for two months) | 300,000 |
| Total expenditure | 650,000 |
| | | | | |
| --- | --- | --- | --- | --- |
| Sr. No | Station | Number of camps | Under care people | Coordinator |
| 1 | Turg Sharif,Isa Khael,Mianwali | 10 | 1,000 | Amir Niazi |
| 2 | Rajanpur,Tounsa,Rojhan | 05 | 2,200 | Shakir Mazari |
| 3 | Rajanpur,Kotla Nasir | 01 | 2,700 | Shakir Mazari |
| 4 | Layyah,Chowk Azam,Kot Sultan | 06 | 2,625 (375 Families) | Qamar Abbas |
| 5 | Bhakker | 01 | 700 | Juma Khan |
| 6 | Dera Ismail Khan | 01 | 500 | Juma Khan |
| 7 | Fazilpur | 01 | 500 | Raoof Mustafavi |
| 8 | Guddu Kashmore | 01 | 350 | Bashir Ahmad |
| 9 | Karachi | 01 | 250 | Syed Zafar Iqbal |
| 10 | Muzaffargarh | 01 | 1,000 | Iftikhar Qureshi |
|   | Total Number | 28 | 11,825 |   |
Sr. No
Sender Organization
Number
Cost
Remarks
1
MWF,through Iftikhar Bokhari
23
9,200,000
These trucks sent before formation of central committee
2
Through Mr. Aqil Malik
25
10,000,000
Sent from Secretariat after establishment of central committee
3
Gujrat
6
3,626,800
Eatables for Noshehra, Kot Addu, Shamwar, Rajanpur
4
Kohat
2
139,000
Mineral water, mats, water coolers
5
Sarai Alamgir
1
500,000
Eatables for Noshehra
6
Chakwal
1
80,000
Wheat flour
7
Lalamusa
1
50,000
Eatables
8
Rahwali
1
60,000
Eatables
9
Dr Rafique Yasir,Tehsil Noorpur
3
900,000
Muzaffargarh
10
Tehsil Nurpur,Shakil Ahmad,president of MYL
2
800,000
Rajanpur
11
Ashraf Anjum C/O Iqbal Town Lahore
2
1,000,000
Ration for families
12
Karachi
6
1,644,460
Flour packs, milk, juice, rusk, rice, pulses, mineral water etc
13
Mian Sanaullah,Pakpattan
1
140,000
Transportation of ration for Sindh
14
Faisalabad
45
20,500,000
Goods
15
Karianwala,Ulama Council Gujrat
1
30,0000
Tents, eatables, medicines, clothes
16
Gojra Ulama Council,Faisalabad
2
700,000
Eatables
17
Ulama Council Gujranwala
1
400,000
Rice, milk, flour etc
18
Wazirabad MSM
2
1,150,000
Clothes, ration etc
19
Gujranwala MSM
1
350,000
Goods, eatables
20
Faisalabad MYL
1
300,000
Eatables
21
Sialkot MYL
1
785,000
Eatables for Rajanpur
22
Rawalpindi,MYL
1
550,000
Eatables for Noshehra
23
Gujranwala MYL
1
300,000
Eatables for Noshehra
24
Pind Dadan Khan MYL
1
250,000
Eatables for Noshehra
25
Teh. Rawalpindi MWF
4
1000,000
Goods sent to Mianwali
26
Teh. Rawalpindi MWF
2
600,000
Noshehra
27
Teh. Rawalpindi MWF
1
350,000
Noshehra
28
Rawalpindi,MWF
1
400,000
Layyah
29
Gujrat
1
849,800
Noshehra, Akora Khattack
30
Gujrat
1
1,094,000
Family food for Kund kot, Gaddu, consisting of medicine, clothes, water, crockery
31
Gujrat
1
325,000
Food package, shoes and clothes
32
Gujrat
1
550,000
Eatables
33
Gujrat
2
808,000
Clothes & Eatables
34
Bhimber
1
100,000
Clothes & Family food packages
35
Mirpur AJK
1
100,000
Eatables
36
Paharpur Dera Ismail Khan
1
50,000
Eatables
37
Dera Ismail Khan
1
50,000
Eatables
38
Hyderabad
1
200,000
Eatables
39
Mansehara
1
50,000
Eatables
40
Badin Sindh
1
200,000
Eatables
41
Haripur
1
100,000
Eatables
42
Kohat
1
200,000
Eatables
43
Daharki Sindh
1
50,000
Eatables
44
Digri
1
50,000
Eatables
45
Shikarpur
1
200,000
Eatables
46
Larkana
1
100,000
Eatables
47
Islamabad Urban
1
300,000
Eatables
48
Islamabad Rural
1
300,000
Eatables
49
PP-5A
2
50,000
Eatables
50
PP-5B
2
800,000
Eatables
51
PP-9
1
850,000
Goods for Noshehra
52
PP-10
PP-11
1
250,000
Goods for Noshehra
53
PP-12
PP-13
1
325,000
Goods for Layyah
54
Taxila
1
500,000
Goods for Noshehra
55
Wah Cantt.
1
200,000
Goods for Noshehra,Akora Khattak
56
Gojar Khan
1
36,000
Goods for Noshehra
57
Doltala
1
152,000
Goods for Noshehra
58
Kalar Sayyidan
1
194,000
Goods for Noshehra
59
Attock
1
155,000
Eatables
60
Pindi Ghaip
1
100,000
Goods
61
Fateh Jang
1
170,000
Goods
62
Hasan Abdal
1
181,870
Goods
63
Jand
1
40,000
Goods
64
Jehlum
1
400,000
Goods for Noshehra
65
Dina
2
750,000
Goods through Help Caravan
66
Sohawa
1
250,000
Eatables
67
Pind Dadan Khan
2
850,000
Eatables
68
Chakwal
1
 
Eatables
69
Talagang
2
485,000
Goods sent to Secretariat
70
PP-91
1
350,000
Goods for Akora Khattak, Noshehra
71
PP-96
1
100,000
Eatables
72
PP-98
2
800,000
Goods
73
PP-99
1
360,000
Goods
74
Wazirabad
3
1,600,000
Goods
75
Sialkot
6
1,500,000
Goods
76
Daska
3
900,000
Goods
77
Sambrial
2
 
Goods
78
Pasrur
2
 
Sent to Secretariat
79
Pasrur Northern
1
300,000
Sent to Secretariat
80
Hafizabad
1
 
Goods for Muzaffargarh
81
Sukheke Mandi
1
100,000
Goods for Muzaffargarh
82
Narowal
2
850,000
Goods
83
Shakargarh
2
650,000
Eatables
84
PP-108 Karianwala
1
90,000
30,000
Tents, goods
85
PP-110 Kunjah
1
300,000
Goods
86
PP-111 City
6
2,000,000
Eatables
87
Dinga
2
1,100,000
Sent to Layyah organization
88
Lalamusa
 
 
Goods for Muzaffargarh, Mianwali
89
Sarai Aalamgir
2
400,000
Goods through Help Caravan
90
Mandi Bahauddin
1
200,000
Turk for Noshehra
91
Jhang
1
400,000
Mahmood kot goods
92
Shorkot
1
175,000
Goods sent to Athar hazari
93
Ahmadpur Sial
1
100,000
Goods sent to Baila Saryana
94
Lalian
2
500,000
Eatables for Layyah
95
Toba Tek Singh
1
100,000
Goods for Muzzafargarh
96
Rajana
 
 
Medicines
97
Peer Mahal
1
180,000
Goods sent to Faisalabad
98
Gojra
2
800,000
Goods
99
Sargodha City
4
1200,000
Layyah, Karor Lal Esan
100
Sargodha East
6
1,800,000
Trug, Kot Addu, Khushab, Layyah
101
Hajjan
1
150,000
Goods for Dado Khel Mianwali
102
Kot Momin
1
150,000
Goods for Noshehra
103
Balwaal
1
200,000
Clothes, rice, flour
104
Tehsil Pindi Bhattian
 
 
Through Riasat Ali Qadri
105
Shahpur
1
100,000
Vaccine + Goods for Carry Daba
106
Silanwali
1
400,000
Goods for Kot Chutta
107
Sahiwal
1
150,000
Goods
108
Bhaira Sharif
 
50,000
Goods handed over to president of Tehsil Bhalwal
109
Mianwali
 
63,000
Goods handed over to Union council Gujrat
110
Piplan
 
16,000
Miscellaneous goods
111
Isakhael
1
50,000
Dry goods, clothes
112
Noshehra
2
698,460
Goods for Noshehra, Tent Cities
113
Quaidabad
 
60,000
Goods sent to secretariat
114
Darya Khan
2
724,000
Food + Goods + Medical
115
Kasur
 
 
Goods, clothes,
116
Mustafaabad
 
10,000
Clothes Layyah
117
Sheikhupura
2
500,000
Goods
118
Mananwala
 
 
Goods sent to Secretariat
119
Muridkay
2
500,000
Layyah, goods dispatched
120
Safdarabad
1
350,000
Goods for Rajanpur
121
Syedwala
 
 
Goods deposited at Secretariat,
122
Depalpur
1
150,000
Muzaffargarh
123
Hujra Shah Muqueem
1
400,000
Spent in Larkana
124
Nur pur
2
1,300,000
Muzaffargarh + Kot Addu
125
Sahiwal
1
90,000
Goods for Rupela wali
126
Cheecha Watni
1
150,000
Layyah goods
127
Multan
7
2,300,000
Goods dispatched for South Punjab
128
Boray Wala
1
50,000
Miscellaneous goods
129
Mailsi
1
450,000
Medical camps
130
Khanewal
1
50,000
Flour, clothes
131
Mian Channu
1
50,000
Ration
132
Lodhran
1
300,000
Rajanpur, goods
133
Dunya pur
1
150,000
Goods for Muzaffargarh
134
Kehror Pacca
 
10,000
Distribution of ration
135
Bahawalpur
1
30,000
Goods for Rajanpur
136
Bahawalpur Saddar
1
20,000
Eatables
137
Hasilpur
1
100,000
Goods for Muzaffargarh
138
Chishtian
1
50,000
Family packages for Rojhan
139
Haroonabad
1
450,000
Family packages
140
Donga Bonga
1
50,000
Goods for Rajanpur
141
Raheem Yar Khan
1
50,000
Goods for Rajanpur
142
Dera Ghazi Khan
1
300,000
Spent locally
143
Toonsa Sharif
1
400,000
Spent locally
144
Ali Pur
1
53,000
Distributed in Ali Pur Chatha
145
Jatoi
1
17,000
Distributed in Jatoi
146
Layyah
2
500,000
Spent locally
147
Chobara
1
601,196
Spent locally
148
Karor Lal Esan
1
375,000
Spent locally
149
Rajanpur
1
11,2000
Spent locally
150
Rojhan
1
10,000
Spent locally
151
Lahore Capital
32
12,800,000
Per Truck Rs.40,000 --- Lahore chapter worked in Rajanpur
 
Grand Total
339
110,805,586
 
| | | | |
| --- | --- | --- | --- |
| Sr. No | Name of Ambulance | Driver's name | Name of cities |
| 1 | Central ambulance | Raja Sultan | Noshehra |
| 2 | Minhaj Ambulance Abbottabad | Liaqat Ali | Akora Khattak |
| 3 | Minhaj Ambulance Mian Channu | Muh Shahzad | Muzaffargarh |
| 4 | Minhaj Ambulance Daska | Umar Hayat | Muzaffargarh |
| 5 | Minhaj Ambulance Gojar Khan | Raja Bashir | Muzaffargarh |
| 6 | Minhaj Ambulance Gujrat |   | Layyah |
| 7 | Minhaj Ambulance Gujrat |   | Larkana |
| 8 | Minhaj Ambulance Shikarpur |   | Shikarpur |
| 9 | Minhaj Ambulance Gujrat |   | Rajanpur |
| 10 | Minhaj Ambulance Lahore |   | Rojhan |
Sr. No
Name
Region
Mobile No
1
Mian Iftikhar
Noshehra
03334337043
2
Rana Muhammad Amin
Sadd bai Amir Balochistan
 
3
Amir Niazi
Trug Sharif
03335345926
4
Muhammad Qamar Abbas

Karor Lal Esan

03016850464
5
Jumma Khan
Bhakkar
03016757794
6
Tariq Aziz
Rajanpur
03336432857
7
Shakir Mazari
Tounsa/ Rajanpur
03346868768
8
Raoof Mustafavi
Fazilpur
03336443649
9
Dr Tariq Mahmood
Mardan
03335471095
10
Abdul Wahid Butt
Saddar Islamabad
03335471095
11
Mahmood Riaz Qadri
Jandanwala Bhakkar
03458634232
12
Dr Zubair
Multan
03458444411
13
Bashir Ahmad
Guddu Kashmoor
03003913800,03337313057
14
Prof Syed Basit Imran
Sarai Aalamgir
03009516591
15
Dr Rafiq Ahmad Yasir
Tehsil Noorpur district Pakpattan Sharif
03008690131
16
Hafiz Muhammad Ijaz
Sarwar Qadri
Ashraf Anjum
Thoker Niaz Baig
Iqbal Town
Saddar Iqbal Town
03008858497
03084040440
03334285836
17
Shahbaz Anwar Butt
Gulberg Town (UC111 Kot Lakhpat)
03224857508
18
Muhammad Akber Qadri
Layyah
03006766857
19
Syed Zafar Iqbal
Javed PP
Rao Kamran
Adnan Inqalabi
Karachi
Thattah (AR 4 35)
03333099401
20
Rizwan Qazi
Wazirabad Dhonkal
03006207688
21
Muhammad Umar
Wahga Town
03009429785
22
Aamir Yousuf
Sialkot
03214499601
23
Muhammad Abid Qadri
Camp Lahore
03004381542
24
Mubasher
Ali pur Camp
03154111656
25
Hafeezullah Baloch
Larkana
03008846390
26
Riaz Baharvi
Mianwalai
03339831239
27
Kamran Pervez
Hyderabad
03212630056
28
Iftikhar Qureshi
Muzaffargarh
03017885590
29
Shahid Mughal
 
03312886252
30
Zahid Latif
NRK
03002101745,03333087938
31
Zafar Iqbal
 
03142189714
32
Zaheer
 
03343124883
33
Naseem Ahmad
Thattah
03012211568
34
Moeeen-ud-Din Kureja
Kot Mitthan Sharif
03008112218
35
Muhammad Rashid Qadri
Faisalabad
0412645433
36
Hidayat Rasool Qadri
Faisalabad
03006674490
37
Sheikh Amin Qadri
Faisalabad
03008668310
38
Engr. Refiq Anjum
Faisalabad
03215000524
39
Rana Ghazanfar Ali
Faisalabad
03219653344
40
Khalid Mahmood Randhawa
Faisalabad
03017132677
41
Hafiz Muhammad Arif Siddiq
Faisalabad
03216632966
42
Prof Arsahd Iqbal
Faisalabad
03007613755
43
Dr Syed Iqrar Hussain Shah
Faisalabad
03226020572
44
Muhammad Inyat Qadri
Faisalabad
0412633254
45
Ghulam Muhammad Qadri
Faisalabad
03457874816
46
Prof Ghulam Murtaza
Faisalabad
03007687142
47
Allah Rakah Naeem Qadri
Faisalabad
03017026921
48
Aziz ul Hassan Hasni
Faisalabad
03007624935
49
Mian Kashif Mahmood
Faisalabad
03006649637
50
Mian Irfan Asif
Faisalabad
03226090034
51
Baji Fatima Sajjad
Faisalabad
03087137244
52
Tariq
Kot
03006267171
53
Ali Nawaz
Chak Baigh
03007411005
54
Haji Riaz Ahmad
Kot Addu
03336013233
55
Shahbaz Anwar
Gulberg Lahore
03224857508
56
Dr Iqbal Noor
Ravi Town Lahore
 
57
Khalid Mahmood
Muzaffargarh
03004376958
58
Rao Waqar Ahmad
Multan
03003580864
59
Rao Sagheer Ahmad
Muzaffargarh
03134946813
60
Irfat ul Islam
Ghazi Town Mianwali
03235675895
61
Owais Qarni
Ghazi Town Mianwali
03449269029
62
Ijaz Ahmad
Ghazi Town Mianwali
03065633359
63
Muhammad Saleem
Kamra
03462451086
64
Rao Muhammad Skakil
Kot Abbas Shah
03009545060
65
Shafqat Ali
Mian Channu
03457320006
66
Mukhtiar Ahmad
Lalian
03457822774
67
Muhammad Javed
Lalian
03457786421
68
Shahid Iqbal
Mian Channu
03008181822
69
Ghulam Abbas
Shah Jamal
03007180824
70
Muhammad Imtiaz
Qandoziabad Kohat
03339824556
71
Muhammad Qasim
Rohilanwali
03016877063
72
Muhammad Bashir
Jatoi
03339921383
73
Zafarullah Khan
Mianwalai
03469206303
74
Dr Saqib Hussain
Gujar Khan
03009187316
75
Dr Nazar Hussain
Jatoi
03017571173
76
Dr Shuker Hussain
Jhuggi wala
 
77
Dr Muhammad Saleem
Rohilanwali
 
78
Dr Muhammad Saleem
Muzaffargarh
03336024044
79
Muhammad Zubair Mushtaq
Kamra
03013979274
80
Muhammad Shafiq Mustafavi
Gujar Khan
03015423209
81
Muhammad Saleem Shahzad
Mianwali
03427445003
82
Raja Muhammad Shabbir
Gujar Khan
03065044837
83
Minhaj al-Mustafavi
Sargodha
03343353747
84
Rao Hassan Ali
Jatoi
03017560336
| | | | |
| --- | --- | --- | --- |
| Sr. No | Station | Number | Number of checked up patients |
| 1 | Chak Karim Dad Qureshi | 1 | 500 |
| 2 | Gujrat Town | 1 | 150 |
| 3 | Farooqabad | 1 | 450 |
| 4 | Chak Rohari | 2 | 600 |
| 5 | Head Kalo | 1 | 400 |
| 6 | Jhugi wala | 1 | 500 |
|  7 | Moochi wala | 1 | 250 |
|  8 | Double more | 2 | 600 |
|  9 | Meerani | 1 | 600 |
|  10 | Meerwala | 1 | 350 |
|  11 | Rohalianwali city | 2 | 1,000 |
| 12 | Rohalianwlai outskirts | 2 | 800 |
| 13 | Layyah | 01 | 5,000 |
| 14 | Karor Lal Esan | 01 | 1,300 |
| 15 | Kashmore Sindh | 01 | 5,000 |
| 16 | Karachi/ Hyderabad | 05 | 8,000 |
| 17 | Thatta | 01 | 1,500 |
| 18 | Rojhan | 01 | 3,200 |
| 19 | Rajanpur | 01 | 17,980 |
| 20 | Fazilpur | 01 | 4,350 |
| 21 | Kalam | 02 | 1,600 |
| 22 | Swat | 03 | 700 |
| 23 | Noshehra | 01 | 11,820 |
| 24 | Akora Khttak | 01 | 6,580 |
| 25 | Trug Sharif | 03 | 1,500 |
| 26 | Fazilpur | 01 | 14,570 |
| 27 | Muhammadpur | 01 | 12,450 |
| 28 | Kot mitthan | 01 | 1,885 |
|   | Total | 41 | 115,335 |
| | | | | |
| --- | --- | --- | --- | --- |
| Sr. No. | Organization | Fund Collection camps | Mobile Flood relief camps | Number |
| 1 | Lahore | 45 | 12 | 600 |
| 2 | 207 Tehsilaat of Punjab | 207 |   | 2,070 |
| 3 | Local organizations | 60 |   | 600 |
| 4 | Karachi 18 towns | 18 |   | 270 |
| 5 | Faisalabad 102 union councils | 102 |   | 510 |
|   |   | 432 | 12 | 4,050 |
Sr. No
Organization
Relief Camps
Volunteers
1
Karor Lal Esan
07
50
2
Trug Sharif
10
50
3
Rajanpur
Tent Cities 3
100 (Lahore)
4
Rajanpur Rojhan
7
50
5
Larkana
Tent Cities
25
6
Shikarpur
Tent Cities
25
7
Baan Saeedabad
Tent Cities
15
8
Kashmore
Relief camps
15
9
Akora Khattak
Tent Cities
25
10
Noshehra
Tent Cities
50
11
Swat—Mangora
Relief camps
50
 
 
Total number of relief camps/Tent Cities
455
 
 
Number of volunteers during Itikaf and Eid
5,000
Tent Cities
21
 
Relief camps
28
 
Flood collection camps
432
 
Total
481
9,505