Minhaj-ul-Quran International holds demonstration to protest the killing of Shahbaz Bhatti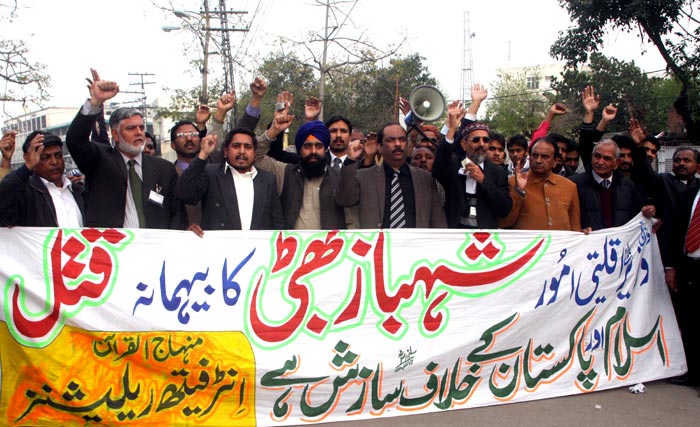 The hundreds of people participated in a demonstration held under the banner of Directorate of Interfaith Relations, Minhaj-ul-Quran International, to protest the gruesome murder of Shahbaz Bhatti, Federal Minister of Minorities Affairs.
Speaking on the occasion, G.M. Malik, Chief Coordinator of Directorate of Interfaith Relations of MQI, said that the entire Pakistan nation is grieved over the murder of Shahbaz Bhatti and we strongly condemn his assassination. Islam is a religion of peace and does not allow anyone to take the life of innocent people. Shaykh-ul-Islam Dr Muhammad Tahir-ul-Qadri, he added, is spreading this message of Islam throughout the world. He said that the Holy Prophet (peace be upon him) conferred full rights on the non-Muslims in the state of Madina. He further said that those who have committed this heinous act cannot be Muslims. Dubbing the murder of the Minister as conspiracy to destabilize Pakistan, he said that such acts are anti-state. He demanded of the government to apprehend the perpetrators of this horrible crime without loss of further time.
G.M. Malik said that the impression of Pakistan being an insecure land would spread in the world after this murder but the peaceful people of Pakistan belonging to all religions want to tell the killers that they would not succeed in their nefarious designs.
Acting Director of the Directorate Hafiz Ghulam Farid said that it is not the murder of an individual but of an entire humanity. He said that the Muslims have equally been saddened by the death of a leader of the Christian community and express complete solidarity with them. Dr Revered Abel Majeed, Revered Chaman Sardar, Dr Kunwar Feroz, Dr Munahur Chand, Bishan Singh and other minority leaders also participated in the protest demonstration.