Shaykh-ul-Islam to address youth of Pakistan on 19th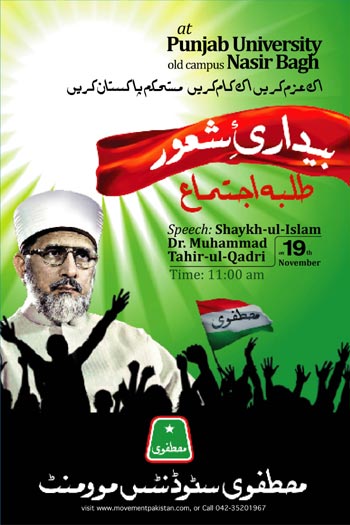 The youth and students are known as the "Nation Builders" who can play a significant role in the development of the country economically, morally and practically. The history of Pakistan bears witness that the student community was at the forefront during the struggle for establishment of Pakistan and worked hard under the leadership of Quaid-e-Azam Muhammad Ali Jinnah to attain the goal.
Keeping in mind that the "destiny of nations lies in the hands of youth." Shaykh-ul-Islam Dr. Muhammad Tahir-ul-Qadri laid the foundation of Mustafavi Students Movement (MSM).
Since its inception, MSM has been imparting spiritual, ideological, educational technical and social guidance to youth so that, as dynamic segment of society and the future of the nation, they may transform into useful citizens of the society.
In continuation of its efforts to empower the student community and help them play a leading role in the national affairs, Mustafavi Students Movement has launched a countrywide campaign to achieve its well defined objectives under the dynamic leadership of Shaykh-ul-Islam Dr. Muhammad Tahir-ul-Qadri.
It is a matter of immense pleasure that Mustafavi Student Movement (MSM) is going to organize بیداریِ شعور طلبہ اجتماع at Nasir Bagh, old campus Punjab University, Lahore at 11 a.m. on 19th November.
With the slogan "Ik Azam Kren Ik Kam Kren, Mustehkam Pakistan Kren", (Let us make a resolve to strengthen Pakistan,) different seminars are being arranged by the workers of MSM throughout the country. The hundreds of thousands of students from different universities, medical colleges, different colleges and schools will attend this student gathering. Shaykh-ul-Islam Dr. Muhammad Tahir-ul-Qadri would deliver his keynote address to the students. The main purpose of this event is to make students realize that they have a huge responsibility of saving Pakistan by playing their due role in the same manner as they did during the freedom movement. The event is being dubbed as significant as it would determine the direction for the student community in the country.
Media Coverage Links