Detailed Tour by Delegation of Minhaj ul Quran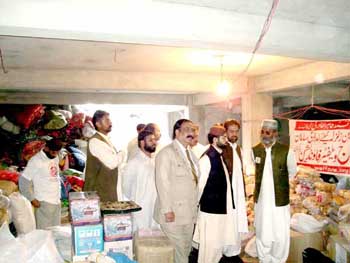 19th October 2005
A delegation of Minhaj ul Quran international left from Lahore today to visit the devastated areas of the earthquake. The delegation was led by Mr.Hassan Mohai ud Din who is the eldest son of Shaykh ul Islam Dr Tahir ul Qadri and the President of the Supreme council of Minhaj ul Quran. The Chief Executive of Minhaj ul Quran Dr Raheeq Ahmed Abbasi and President Pakistan Awami Tehreek Mr.Duryab Yousaf Hashmi were also accompanied by Mr.Hassan Mohai ud Din. Ameer of Punjab Mr. Ahmed Nawaz Anjum and President MWF Kashmir Mr. Sardar Mansoor also joined the delegation during the visit.
The delegation visited Muzaffarabad, and Mansehra today. Fatiha was prayed during the tour for the ones who passed away and visits were also made to the hospitals and camps of Pakistani Army by the delegation.
During the tour of Muzafarabad the first Minhaj Tent Village was set up and Mr. Hassan Mohai ud Din officially handed over the village to the ones who were homeless in that area. The Village was today set up with 40 tents which will increase to 100 in the next few days.
18 more trucks were sent with tents, warm clothes and food items were sent today from Lahore and Rawalpindi to Bagh, Rawalakot and Ugee.
Pictures of the EARTHQUAKE RELIEF AID can be seen on the webpage of welfare www.welfare.org.pk and on the main page of Minhaj www.minhaj.org