International Spiritual Congregation today
All is set for International Spiritual Congregation 2012 under the banner of Minhaj-ul-Quran International, which will be held today on August 15 in vast playgrounds adjacent to Jamia Al-Minhaj in Baghdad Town. The arrangements for the mega event of MQI had already been completed.
Hundreds of thousands of people will attend the Congregation in addition to renowned religious scholars, intellectuals, political personalities, representatives of various organizations as well as local notables. Women will also be in attendance of the programme for whom separate seating arrangements have been made.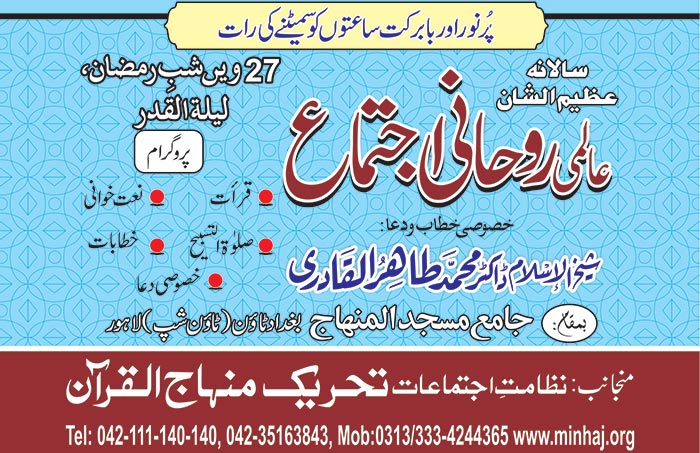 Hundreds of overseas Pakistanis from Europe, Gulf States, Central Asia and other regions of the world have also reached Lahore to take part in the event.
The proceedings of the International Spiritual Congregation will get underway after the Isha prayers, which will conclude at 12 a.m. The first session will feature different Qaris and Naat Khawans reciting verses of the Holy Quran as well as Naat. Salat-us-Tasbih will also be offered on the occasion.
The chief highlight of second session of the programme is the keynote address of Shaykh-ul-Islam Dr Muhammad Tahir-ul-Qadri, which he will deliver live from London, UK, through video conferencing. The address of Shaykh-ul-Islam will be telecast live around the world by QTV & other TV channels. Minhaj.tv has also made arrangements to relay the speech and proceedings of the programme live from Itikaf City.
Stringent security measures have been put in place on the occasion. In addition to police and law enforcement personnel, a large number of youths of MSM and MYL will also perform security duties.
Huge digital screens have been installed in the main venue for facilitation of the audiences. The management has directed the participants of the programme to reach on time to avoid any hassle.
The programme would conclude on special Dua, which will be led by Shaykh-ul-Islam Dr Muhammad Tahir-ul-Qadri.