Eid package distributed among needy families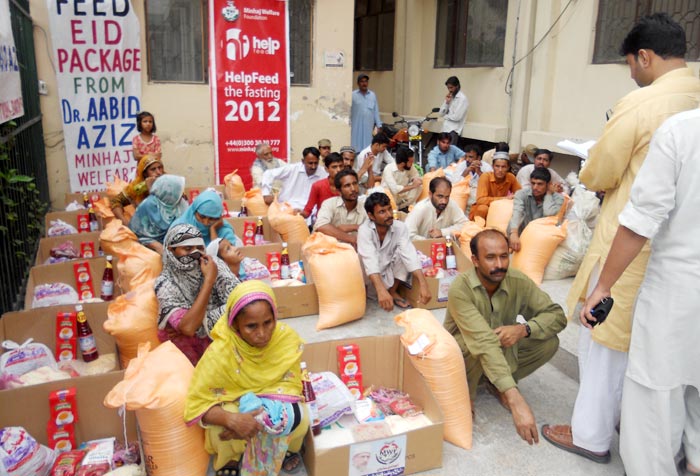 Under MQI's Helpfeed project, Dr Abid Aziz, Director of Minhaj Welfare Foundation (Europe) distributed Eid package among the 50 needy families on August 7 (19th of Ramadan). It is pertinent to mention here that Helpfeed Project has been launched globally for distribution of food items among the low-income groups under the special instructions of Shaykh-ul-Islam Dr Muhammad Tahir-ul-Qadri. The ceremony held in Lahore was part of the same grand project.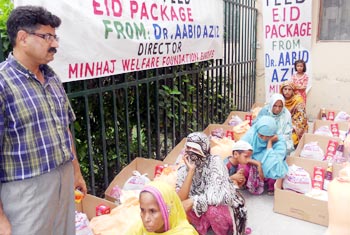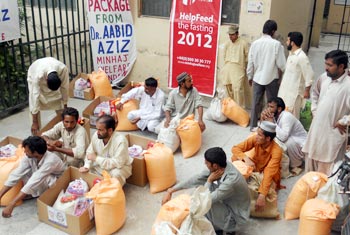 Under the package, each family got a one month's complete food ration consisting of all necessary items including 20 kg flour, 10 kg rice, 5 kg sugar, 5 kg ghee, pulses, tea leaves, and other things. Director of Minhaj Welfare Foundation Iftikhar Shah Bokhari, Engr. Afzal Ghous, Khurram Shahzad, Muhammad Ahmad Moeen, Hassan Khan, Dr Tariq Qureshi, and Irshad Ali Babar were also present on the occasion of ration distribution.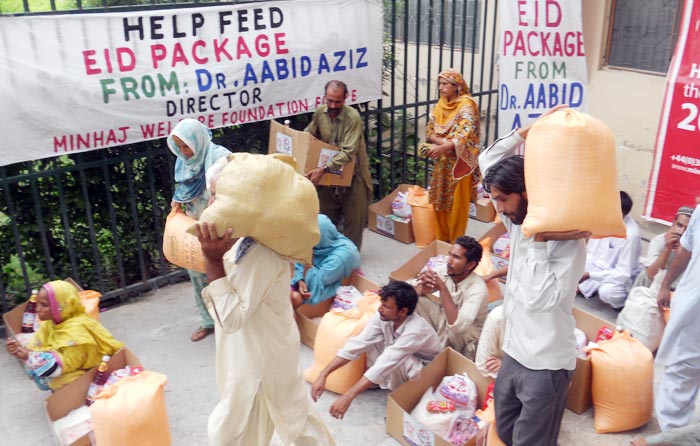 In his remarks, Iftikhar Shah Bokhari said that the holy month of Ramadan provides an opportunity to share the problems and worries of less privileged sections of society who are deprived of basic necessities of life. He said that the purpose of Eid package under the Helpfeed project is to enable these segments to celebrate Eid in a befitting manner. It also aims to awaken a realization among the affluent people to take care of their destitute brethren. He said that it is by helpeing those in acute need of help that one can get real happiness and win Allah Almighty's pleasure.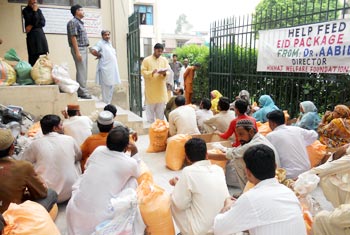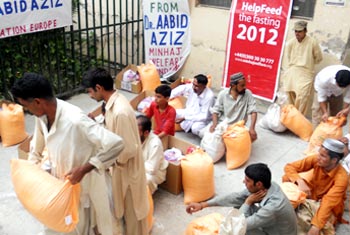 Dr Abid Aziz, Director of MWF (Europe), said on the occasion that the holy month was all about sacrifice and selflessness. He said that we should endeavour to give due place to the poorest of the poor by including them in the mainstream of life. He said that welfare of the people should be our prime focus. He said that the holy month of Ramadan was a refresher course wherein we were taught to support our downtrodden sections of society. He said that we should remember these lessons for the rest of the years.
The programme ended on Dua for peace, harmony and the country's progress and prosperity.