Dr Tahir-ul-Qadri offers to plead case in International Court of Justice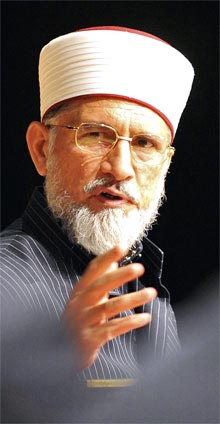 Dr Muhammad Tahir-ul-Qadri has demanded of the government of Pakistan to move a case in the International Court of Justice for a legal action against the blasphemous, anti-Islam film. He said that if the government did so, he was ready to plead the case on behalf of 1.5 billion Muslims and the government of Pakistan in accordance with the Charter of UN, human rights and international laws. He asked the government to convene an emergency meeting of OIC and bring the pressure to bear upon the influential countries through a resolution for legislation on respect for religions. He said that doing so was important as it would put a permanent end to the practice of blasphemy.
Dr Muhammad Tahir-ul-Qadri expressed these views while talking to Dr Raheeq Abbasi on telephone from Canada.
He particularly mentioned the peaceful rallies held under the banner of MQI in Islamabad, Lahore, Multan, Karachi and Faisalabad, saying the participants of these rallies needed to be felicitated as they set a precedent of peaceful protest. He said that these rallies reflected the image of the country.
Condemning rioting, violent protests on Youm-e-Ishaq-e-Rasool (SAW) on Friday, he said that it was the work of a handful of extremists and mischief mongers which cannot be regarded as representation of collective will of people of Pakistan.