Daily The Nation: Door-to-door campaign gets momentum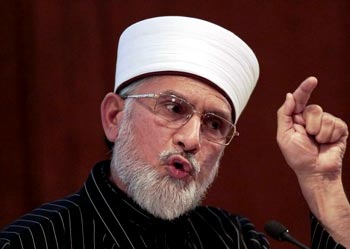 ISLAMABAD – With the deadline of January 14 nears, Tehreek Minhajul Quran (TMQ) has increased the pace of campaign in federal capital as its Women Wings are visiting homes to convince women to actively participate in the rally.
The Women League Islamabad chapter in its campaign are delivering messages to women that it is the right of every Pakistani to spend life with respect and dignity. "Children of poor people should be given equal chance to have basic facility," said Minhajul Quran Women League President Razia Naveed in her door-to-door campaign in different areas of Islamabad.
Tehreek Minhajul-Quran (TMQ) has started installing camps in mid city and hinterland and in this regard industrial Area (I-9, I-10), mid city (G-9,G-10) and other areas have been covered. In the publicity campaign big billboards are also being installed within the city.
Minhajul Quran Youth League workers along with Mustafwi students in this campaign are also making arrangements in different areas. They are distributing pamphlets in markets and erecting flags around the city. TMQ's has also arranged sound system (with 500 loudspeakers) from D-Chowk to Khyber plaza for the speech of Chief TMQ Allama Tahir ul Qadri, said Secretary Information TMQ Ghulam Ali.
He said that LCD's and audio have also been installed in the camps to convince people to participate in the long march.
Source: www.nation.com.pk