Geo News: Dr Tahir-ul-Qadri presents charter of demands
LAHORE: Leader of Tehrik-e-Minhaj ul Quran (TMQ) Tahir ul Qadri has confirmed to continue with the long march on January 14 come what may and has presented a charter of demands, Geo News reported on Saturday.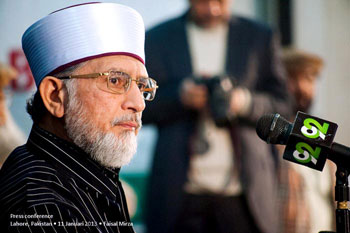 While addressing a press conference here today, TMQ leader said that his charter of demand consists of seven points out of which one will be revealed in Lahore while the rest will be revealed in Islamabad.
He stated that final negotiation will take place at Parliament House in front of the whole nation. He also claimed that hundreds are welcomed to talk to him but nothing can deter him from his path.
The march will start from Data Darbar tomb in Lahore and will end at Bari Imam tomb in Islamabad, he told.
Initially, MQM had decided to participate in the long march but pulled its support yesterday. On the other hand, the cleric of Golara Shareef has also refused to support Qadri, saying that the latter is eyeing federal government.