Qadri demands immediate suspension of developmen funds
Dunya News
Last Updated On 31 January,2013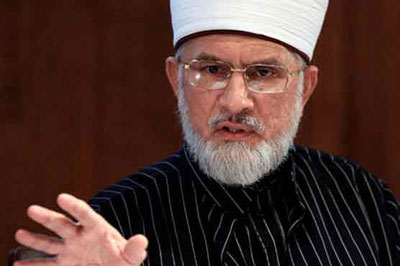 Qadri emphasized that his struggle was for the nation and the supremacy of the constitution.
LAHORE: The Tehreek-e-Minhajul Quran (TMQ) founder, Dr Tahirul Qadri, has demanded to sack all the serving provincial election commissioners, terming the formation of election commission as unconstitutional, Dunya news reported on Thursday.
Holding a press conference at Minhajul Quran Secretariat, Qadri said he would file two petitions in the Supreme Court within the next 24 hours. The first petition would seek the restructuring of the Election Commission while the other would be filed to seize all the developmental funds.
Responding to a question regarding his future political drive, the TMQ chief said that the central executive committee of his party would decide whether to participate in the upcoming general elections or not.
Source : http://dunyanews.tv/index.php/en/Pakistan/157030-Qadri-demands-immediate-suspension-of-developmen-f