MWL distributes 'Ramadan ration packs' among 300 needy families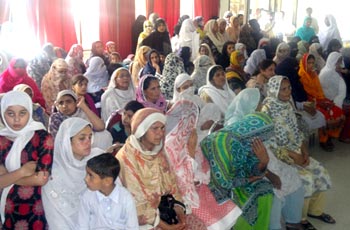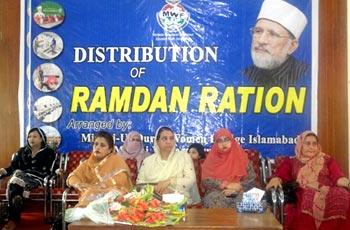 ISLAMABAD, July 13: Minhaj-ul-Quran Women League (MWL) Islamabad on Saturday distributed 'Ramadan ration packs' among poor widows and needy families of different localities of Capital.
Food packets worth Rs. 1400 each, comprising 10 kg flour, 2 kg rice, one kg sugar, one litre oil, one kg dates, noodle packets, 'Rooh Afza' syrup besides pulses were supplied to over 300 underprivileged families during a ceremony here at community centre, sector G-9/2.
"We had identified around 300 families in various areas of the Capital to supply the ration," said Razia Naveed, President MWL Islamabad.
She said that her organization distributes rations among the poor every year at the outset of Ramadan.
She said that Minhaj-ul-Quran would continue facilitating people in distress, especially the families. "The participation of women in uplift of home is only possible if they are empowered and given the due respect", she maintained.
General Manager PTV Farkhanda Shaheen, who was the chief guest of the ceremony, hailed the efforts of MWL for providing relief to the poor families during the holy month of Ramadan. She said that donors should come forward to join hands with organizations like MWL for helping the needy people.
Naila Rubi, Chairperson B.B Welfare Trust, Zakia Safdar, President Positive Life Trust, Sayyeda Firdous, Chief Organizer of All Pakistan Muslim League, Dr. Amana Sadaf and other notable ladies also attended the ceremony.