World deprived of statesman by death of Nelson Mandela: Dr Tahir-ul-Qadri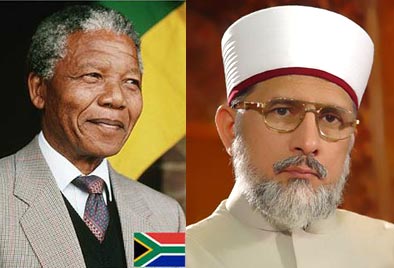 Reacting to death of the legend, statesman and the greatest politician of the present century, former South African President Nelson Mandela, Dr Muhammad Tahir-ul-Qadri said that Nelson Mandela fought a long war for freedom of his people. He said that perseverance, sincerity of purpose and unprecedented amount of patience Mr. Mandela displayed against heavy odds and inhospitable circumstances distinguished him as one of the greatest legends of modern history.
Dr Tahir-ul-Qadri said that as a result of his death, the people of South Africa had been deprived of their beloved leader, adding that history would remember Mr. Mandela as an icon and metaphor of human dignity, freedom and equality of rights without any discrimination of caste, color and creed. He said that end of Apartheid in South Africa was historic feat of Nelson Mandela for which the coming generations would remain indebted to him for times to come.