Deadly clashes rock Pakistan's Lahore
At least seven killed and 80 injured as followers of religious scholar Tahir-ul-Qadri clash with police in Lahore.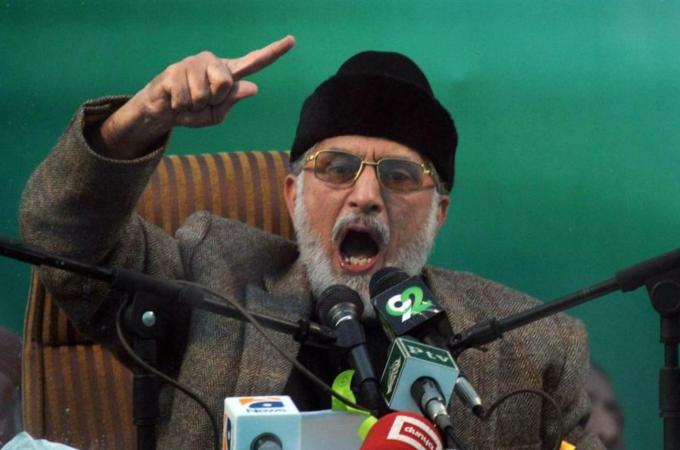 At least seven people have died in clashes between followers of a religious scholar and police in the eastern Pakistani city of Lahore, hospital officials have said.
The clashes on Tuesday involved supporters of Canadian-Pakistani Tahir-ul-Qadri who held a major anti-corruption march last year prior to the May 2013 national elections that saw the country's first democratic handover of power.
The religious scholar, who is seen as a moderate, is due to return on June 23 where he hopes to lead a "peaceful revolution" against the country's democracy.
"We received seven dead bodies including two women. All of them had bullet wounds," said Abdul Rauf, a doctor at the city's Jinnah Hospital.
"We also received 80 injured, 40 with bullet injuries and 40 with other wounds. Two injured are critical," he told the AFP news agency.
Muhammad Rizwan, another member of the medical staff, confirmed that the dead bodies had been received.
Abdul Jabbar, a senior police officer, told AFP that the clashes began when police went to the office of Qadri's Pakistan Awami Tehreek (PAT), meaning "Pakistan People's Movement", in the city's Model Town suburb on Monday night.
"The PAT activists resisted the operations which caused clashes between the protesters and police," he said.
"We went to the area again during the morning with additional force. The PAT activists pelted stones on policemen and our forces used tear gas to disperse them."
A spokesman for the PAT however, said up to 12 of its supporters had been killed.
"They launched this operation to counter our peaceful movement and the 'green revolution' promised by doctor Tahir-ul-Qadri," he said.
Source: http://www.aljazeera.com/
Source : http://www.aljazeera.com/news/asia/2014/06/deadly-clashes-rock-pakistan-lahore-201461710175813979.html