Qadri rejects probe, slams gun attack on MQM MNA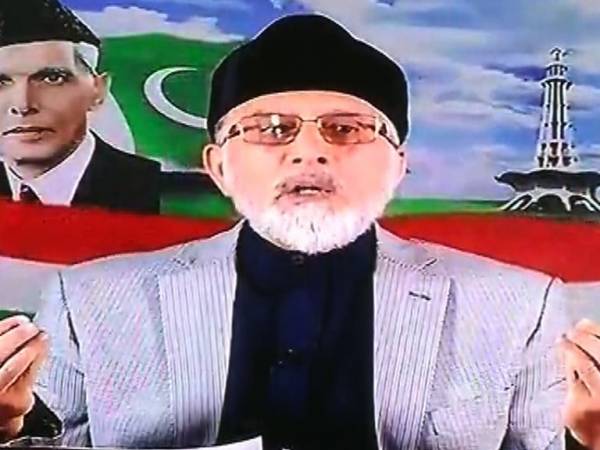 TORONTO: Pakistan Awami Tehreek (PAT) head Dr. Tahir ul Qadri on Wednesday rejected judicial commission set up by the Punjab government to open a probe into deaths of eight people in Lahore yesterday.
"I appeal to judge to distance himself from the commission. Those who carried out murders lodged an FIR themselves," he said while addressing a press conference via video link from Canada.
He said Minhaj ul Quran Internatinal (MQI) Secretariat was sprayed with bullets for 15 hours. Police commandoes were brought from other districts of Punjab.
"Electricity supply to my residence has been cut off. It is still without electricity," Qadri said.
"TV channels have shown live coverage of how state terrorism took place at the hands of police officers. News channels have clearly shown, those who were attacking and those who were defending themselves," he said.
"The nation has witnessed and knows the truth about how PAT workers were attacked for no reason. If the media had not been there on time, who would have delivered the true picture of the attacks?," he said.
Dr. Qadri thanked electronic and print media for covering what he said "horrific time and for exposing state terrorism."
"We strongly condemn the assassination attempt on MQM leader Tahira Asif," he said.
Source: http://www.samaa.tv/pakistan/18-Jun-2014/qadri-rejects-probe-slams-gun-attack-on-mqm-mna
Source : http://www.samaa.tv/pakistan/18-Jun-2014/qadri-rejects-probe-slams-gun-attack-on-mqm-mna