Revolution on The Verge: Tahir-ul-Qadri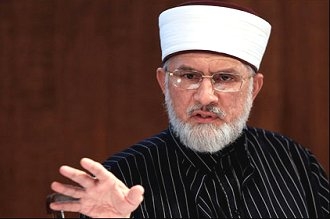 Lahore – Pakistan Awami Tehreek (PAT) chief Dr. Tahir-ul-Qadri has strongly condemned the killing of his party's activists in clashes with police in Lahore, saying government's days have been numbered and revolution is on the verge.
Addressing party workers via video link, the cleric termed police crackdown on Minhaj-ul-Quran International (MQI) secretariat as 'state terrorism', saying the said that the FIR of the killing of would be registered against Prime Minister Nawaz Sharif and Punjab Chief Minister Shahbaz Sharif.
Eight people including two women were killed with 80 others injured when police and protestors clashed outside the MQI secretariat in Model Town Area in the provincial capital.
The clashes began at nearly 2:00am last night when a heavy contingent of police, backed by bulldozers, cranes and heavy machinery, launched crackdown to remove placed barriers outside MQI secretariat and dozens of PAT activists tried to abort them.
PAT chief said that the barriers were placed four years ago and were not disturbing anyone. He claimed that there actual purpose of 'state terrorism was not to remove the barriers but there were 'three other' objectives.
Dr Qadri said that police opened straight fire on peaceful PAT workers but he had asked them to not to retaliate even if you are being shot. He said if TMQ workers had resorted to retaliatory shooting, it could've resulted in the killing of police personnel but it didn't happen.
Dr Qadri also paid rich tribute to the courage of PAT workers, saying the blood of those who scarified their lives won't go in waste. He also announced to return to the country on June 23 as scheduled.
Source: http://www.pakistantribune.com.pk/16188/revolution-verge-tahir-ul-qadri.html
Source : http://www.pakistantribune.com.pk/16188/revolution-verge-tahir-ul-qadri.html