Qadri arrives today amid strict security
LONDON/ISLAMABAD: Pakistan Awami Tehreek chief Dr. Tahirul Qadri will arrive in Islamabad amid strict security today (Monday, June 23).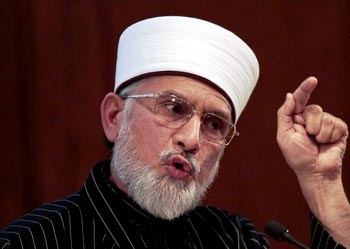 Dr. Tahir ul Qadri arrived in London on Saturday from Toronto, while after a one-day stay in London; he left for Islamabad on Sunday and is expected to reach Benazir International Airport at 7 early on Monday morning.
Meanwhile, the PAT workers have made all arrangements to welcome their leader and in this regard they have been directed to arrive at the Airport to welcome Dr. Qadri. Twin cities and GT Road have been decorated with posters and banners.
PML-Q leaders Chaudhry Shujaat Hussain and Chaudhry Pervez Elahi would welcome to Qadri upon his arrival in Gujrat. It is also expected that workers of Majlis e Wahdat ul Muslmeen and Pakistan Tehreek-i-Insaf (PTI) will welcome to Dr. Qadri.
On the other hand, intelligence agencies have warned the Ministry of Interior of a serious terrorist threat to the life of Pakistan Awami Tehrik chief Allama Dr Tahirul Qadri, when he lands in Pakistan, it is learnt.
Police and law enforcing agencies have been intimated of this intelligence report with directions that all necessary measures should be taken to counter a possible attempt on life of Dr Tahirul Qadri, who has planned to land at the Benazir Bhutto International Airport, Islamabad.
In view of the possible blow back in the North Waziristan Agency, security has already been put on a high alert in all the major cities and towns of the country. Meanwhile, the Ministry of Interior has issued directives to the law enforcing agencies to take effective measures to counter the possible terrorist attacks on Dr Tahirul Qardi.
Chief Minister Punjab Shahbaz Sharif also directed to Law Minister Rana Mashhood, IG Punjab police Mushtaq Sukhaira and all law enforcing agencies to take strict security measure during arrival of Dr. Qadri.
It has learnt that aerial surveillance would also be done during Qadri's procession from Islamabad to Lahore via GT Road.
It is pertinent to mention here that Dr. Qadri is arriving in Pakistan to lead what he calls a "peaceful revolution against the current system of governance.
Last month, leaders of PAT and PML-Q met in London and presented a 10-point reform agenda, including removal of Nawaz Sharif government.
Earlier last week, 12 PAT workers were killed and scores of others wounded in a deadly clash with police in Model Town, Lahore. Dr. Qadri blamed Prime Minister Nawaz Sharif and Punjab Chief Minister Shahbaz Sharif for the killings and asked them to step down. "I am coming to Pakistan on June 23, knowing that I will have to face difficulties from day one," he told journalists in London. "The voice of truth can never be suppressed," he added.
Source: http://www.onlinenews.com.pk/details.php?newsid=264524
Source : http://www.onlinenews.com.pk/details.php?newsid=264524