Despair of youths gives me restless nights: Dr Qadri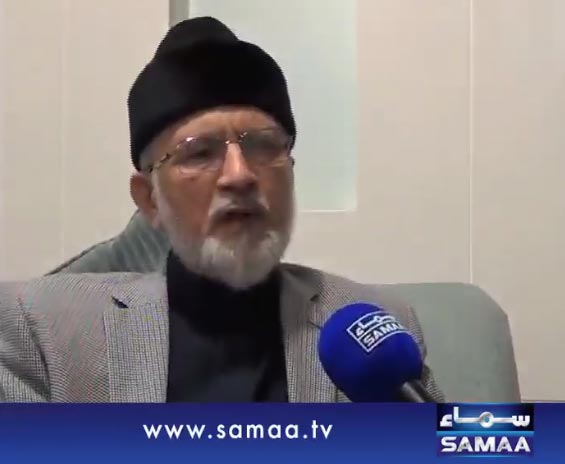 DUBAI: Minhaj-ul-Quran International patron-in-chief Dr. Tahir-ul-Qadri said he remains delightedly engrossed in scholarly work of hadiths, which gives him immense heavenly ecstasy; but, the present circumstances keep him on tenterhooks, SAMAA reported Monday.
Talking to SAMAA in a brief interview with Ali Mumtaz at Dubai airport, he said, "The wretched conditions of Pakistan do not allow me to fall into a peaceful slumber. Disappointments in youths give me restless nights. I am fighting for people's rights. I am combating to change the fate of a common man."
When asked about the multiple steps taken by the government led by Pakistan Muslim League-Nawaz (PML-N) to prevent the PAT workers from reaching Benazir Bhutto International Airport to receive him, Dr. Qadri remarked that the Sharif dynasty is on its last legs; and they are watching their end nearing, adding the rulers are witnessing their reign slip from their hands.
Prime Minister House and President House belong to masses and these prestigious houses will taken back from the rulers, Dr. Tahir-ul-Qadri asserted adding the rulers assassinated the PAT workers; of them, bodies of 12 workers were taken away and disappeared.
When reminded about the thousands of people on roads to head for the airport to receive him, the PAT leader observed all of the people who are coming to welcome him, are not PAT workers; instead, they are true patriots and wish to welcome a true patriot.
On this occasion, Dr. Qadri reminded Mian Nawaz Sharif of past days when he used to show extreme devotion to him. –SAMAA
Source: http://www.samaa.tv
Source : http://www.samaa.tv/pakistan/23-Jun-2014/despair-of-youths-gives-me-restless-nights-dr-qadri