Dr Tahirul Qadri refuses to get off at Lahore airport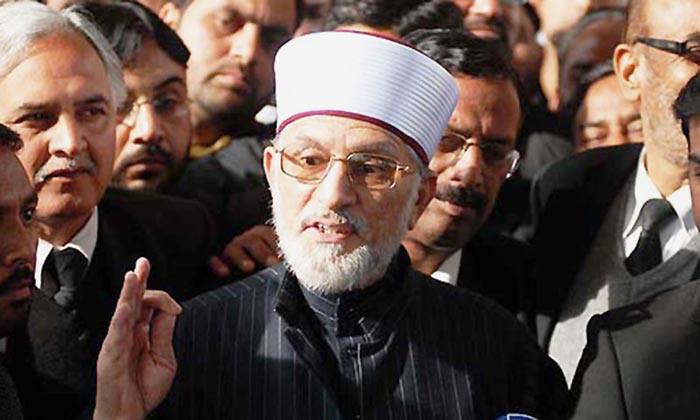 ISLAMABAD: Emirates Airline flight EK-612 carrying Pakistan Awami Tehreek (PAT) chief Dr Tahir-ul-Qadri has landed at the main terminal of Allama Iqbal International Airport, Lahore on Monday morning after being diverted from Islamabad.
According to media reports, Dr Qadri has refused to leave the plane as the authorities took him to Lahore instead of Islamabad.
Civil Aviation Authority (CAA) earlier told that the flight EK-612 of Emirates Airline carrying Dr Qadri was diverted to Lahore who was arriving from Dubai and landed at 9:35 am at the main terminal of Lahore airport.
The authority further told that other passengers will be flown to Islamabad after Dr Qadri is escorted at the Lahore airport.
On the other hand, a temporary helipad has been prepared at the Minhaj ul Quran Secretariat for the helicopter that will safely carry PAT chief to the secretariat.
Strict security measures were witnessed at the Lahore airport before Dr Qadri's arrival.
Earlier, a larger number of PAT workers crossed all barriers to reach the Benazir International Airport to welcome their chief Dr Tahir-ul-Qadri who was expected to land in the federal capital earlier.
Dr Qadri's supporters clashed with police and chanted slogans against the government as law enforcers tried to prevent them from reaching the airport. The police baton charged the supporters and resorted to using tear gas to disperse the crowd near Faizabad.
Following clashes with supporters, the police finally had to retreat after enraged activists pelted them with stones. Dozens of policemen were injured in the clashes, hospital sources told.
The protesters carrying banners and flags of the Pakistan Awami Tehreek, defying section 144 imposed by the government in the wake of the Qadris' arrival continued their march to the airport.
Source: http://www.thenews.com.pk/article-151615-Dr-Tahirul-Qadri-refuses-to-get-off-at-Lahore-airport
Source : http://www.thenews.com.pk/article-151615-Dr-Tahirul-Qadri-refuses-to-get-off-at-Lahore-airport