Clashes erupt as Qadri returns to Pakistan
Tahir-ul-Qadri's flight diverted from Islamabad to Lahore as hundreds of his supporters fight pitch battles with police.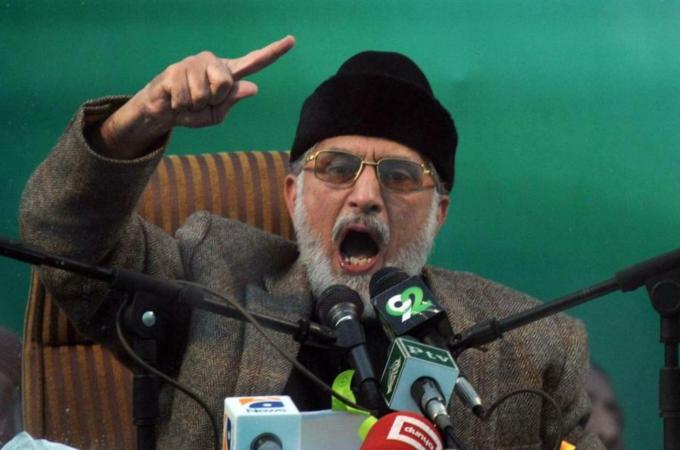 A plane carrying anti-government Pakistani leader Tahir-ul-Qadri has been diverted from the capital Islamabad as hundreds of his supporters clashed with police outside an airport.
Qadri, who has been calling for a revolution against a government he accuses of corruption and incompetence, was due to arrive in the city from London, via Dubai, early on Monday morning.
After clashes between supporters of Qadri's Pakistan Awami Tehreek (PAT) party and police, who had thrown up a cordon around the airport to stop his supporters from meeting him, the plane was diverted to Lahore.
Police fired tear gas and party activists attacked them with stones and bricks, footage from the scene showed.
The violence comes after at least seven PAT activists were killed in a confrontation with police outside the party's headquarters in Lahore last week.
"If Dr Qadri is arrested at the airport or his flight is diverted we will stage a sit-in in the country and it will mean an immediate end of PML-N regime," Shahid Mursaleen, a spokesperson for Qadri, said before he left London.
Qadri, a Canada-based cleric, is a former parliamentarian, but his party has never been a potent electoral force.
He returned to political prominence in December 2012, when he led a "long march" of thousands to Islamabad, unsuccessfully calling for the toppling of the then PPP-led government, months before a general election.
Security concerns
On Sunday, authorities imposed restrictions on gatherings of more than five people and the display of weapons in the Islamabad and Rawalpindi area.
They also suspended mobile phone services in the capital for several hours, citing security concerns.
Chaudhry Nisar Ali Khan, the interior minister, said that the government would not allow any protest marches in Islamabad because they may pose a security threat.
Security has been tight across the country, and especially in the capital, since June 15, when Pakistan launched a military operation against the Tehreek-e-Taliban Pakistan and its allies in the tribal area of North Waziristan.
That operation was launched in response to a breakdown in government-TTP talks, and a brazen attack by Uzbek and TTP fighters on Karachi airport this month.
The military says it has killed more than 240 Taliban and other fighters since the operation began. The Taliban has warned it will launch retaliatory strikes.
Source: http://www.aljazeera.com/news/asia/2014/06/clashes-as-cleric-qadri-returns-pakistan-201462354125765536.html
Source : http://www.aljazeera.com/news/asia/2014/06/clashes-as-cleric-qadri-returns-pakistan-201462354125765536.html