Grand alliance not the agenda, APC on June 29: Qadri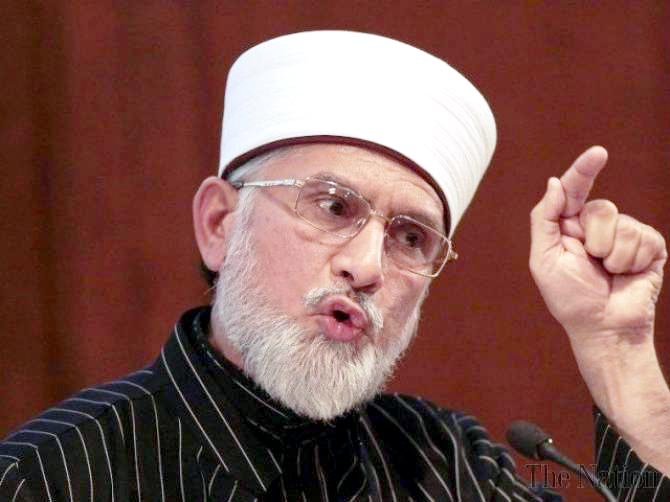 LAHORE- Pakistan Awami Tehreek (PAT) chief Tahirul Qadri said on Thursday that forming a 'grand alliance' against the government has never been his agenda. He further stated that an All Parties Conference (APC) will take place on June 29.
Addressing media after meeting leaders from various political and religious parties in Lahore, Qadri said that an APC has been called on June 29 on a single agenda of Model Town tragedy.
He said that unarmed citizens were murdered during the Model Town tragedy, adding that he never hinted on formation of any grand alliance. He said no discussion on this subject ever took place. PAT chief reiterated that grand alliance has never been his agenda.
Qadri said that he will never retract from the agenda of eliminating the existing system, adding that a 'peaceful battle' will be fought for the establishment of new system.
He said that toppling the government is also not his agenda, adding that the struggle will continue until the 'system of cruelty' ends.
Pakistan Muslim League Quaid (PMLQ) leader Chaudhry Pervaiz Elahi said that the discussion on 10-point agenda has been postponed for another time, adding that only APC was discussed today (Thursday).
Sunni Ittehad Council (SIC) chief Hamid Raza also said that only Model Town tragedy was discussed.
Majlis Wahdatul Muslimeen (MWM) leader Allama Amin Shaheedi said that he will welcome any number of people who join in the movement against the government.
Source: www.nation.com.pk
Source : http://www.nation.com.pk/national/27-Jun-2014/grand-alliance-not-the-agenda-apc-on-june-29-qadri