Qadri says he wants to overthrow government
PAT APC demands resignations of Punjab CM, others over Minhaj-ul-Quran incident
PML-Q, MQM, PTI, AML, JI, SIC, MWM attend APC, PPP, ANP, JUI-S regret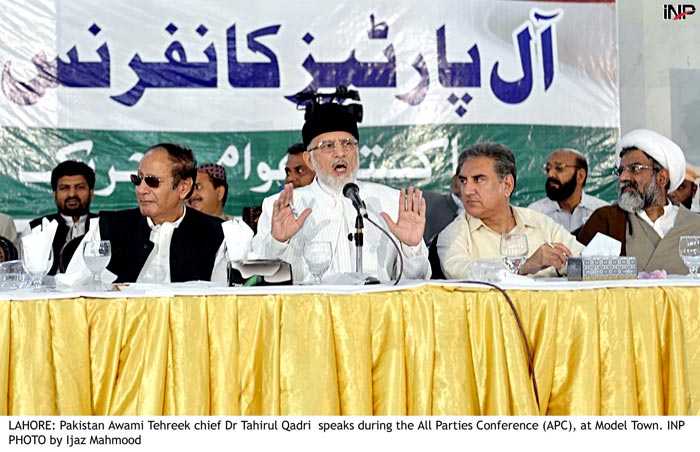 A joint-declaration issued after the All Parties Conference (APC) convened by Pakistan Awami Tehreek (PAT) chief Dr Tahirul Qadri on Sunday demanded Punjab Chief Minister Shahbaz Sharif's resignation and dismissal of ministers and senior officials over Minhajul Quran tragedy.
Condemning the Model Town tragedy which claimed about a dozen lives for police-PAT clashes, the five-point APC resolution stated that the cruel operation on unarmed PAT workers was tantamount to tearing justice into shreds. The resolution demanded constitution of a commission comprising three senior Supreme Court (SC) judges who could summon anyone including the prime minister.
"All those from the government machinery involved in Model Town tragedy be dismissed and arrested for murders while Shahbaz Sharif and other provincial ministers involved in the massacre should resign and submit themselves to the law. In case they do not resign, the president should sack them," the resolution demanded.
The resolution further demanded that the FIR registered against the victims of Model Town tragedy be withdrawn and FIR be registered on the complaint of Minhajul Quran.
Addressing the meeting, the participants held Shahbaz responsible for the incident and were of the opinion that until he resigns, fair and transparent investigation was impossible. They also compared the Model Town tragedy with Jalianwala Bagh massacre.
The APC was attended by Chaudhry Shujaat Hussain and Chaudhry Pervez Elahi of Pakistan Muslim League – Quaid (PML-Q), Pakistan Tehreek-e-Insaf (PTI)'s Shah Mahmood Qureshi, Mian Mahmoodur Rashid and Ijaz Ahmad Chaudhry, Jamat-e-Islami (JI)'s Hafiz Salman Butt and Nazir Ahmad Janjua, Awami Muslim League (AML)'s Sheikh Rashid Ahmad, Pakistan Muslim League – Functional (PML-F)'s Ghulam Mustafa Khar, Muttahida Qaumi Movement (MQM)'s Khalid Maqbool Qureshi and Rashid Godel, Sunni Ittehad Council (SIC)'s Sahabzada Hamid Raza Qadri, Majlis-e-Wahadatul Muslameen (MWM)'s Allama Nasir Naqvi, Baba Haider Zaman of Hazara Province Movement and leaders of other political and religious parties.
However, Pakistan People's Party (PPP), Awami National Party (ANP) and Jamiat Ulema-i-Islam-Sami (JUI-S) did not become a part of Qadri's APC.
JUI-S chief Maulana Samiul Haq said that Qadri should go to court for Model Town incident instead of calling an APC.
GOING AGAINST THE GOVERNMENT:
Talking to the journalists, Qadri said that PAT's agenda was to "overthrow the government".
Qadri also said that APC was not intended to discuss any political move but the Model Town episode with other political parties.
Speaking on the occasion, Ahmed Raza Kasuri from All Pakistan Muslim League (APML) alleged that the government was setting a wrong example of governance. He claimed that the prime minister's speech in favor of military operation was scripted by the General Headquarters while the premier had allegedly been never in the operation's favor.
Source: www.pakistantoday.com.pk
Source : http://www.pakistantoday.com.pk/2014/06/29/national/qadri-says-he-wants-to-overthrow-government/