Qadri-led APC wants whole Punjab set-up to go home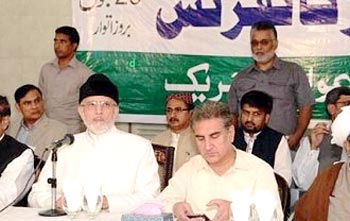 LAHORE: The all-parties conference (APC) convened by Tahirul Qadri issued a joint declaration on Sunday with consensus, demanding resignation of Punjab Chief Minister Shahbaz Sharif, his cabinet members and top police officials over the Model Town, Lahore, incident.
Many major political parties attended the event along with Pakistan Awami Tehreek (PAT), which hosted the conference. Those in attendance were Pakistan Muslim League-Quaid (PML-Q), Pakistan Tehreek-e-Insaf (PTI), Jamaat-e-Islami Pakistan (JIP), Muttahida Qaumi Movement (MQM), All Pakistan Muslim League (APML), Majlis-e-Wahdatul Muslimeen (MWM), Sunni Ittehad Council (SIC), Jamiat Ulema-i-Pakistan Niazi group (JUP-N), Pakistan Muslim League (Like-minded), Pakistan Muslim League-Functional (PML-F), Balochistan National Party, Sindh United Party and Hazara Movement.
The ruling Pakistan Muslim League-Nawaz (PML-N) was not invited to the conference, while the Pakistan People's Party (PPP), Awami National Party (ANP), Jamiat-e-Ulema-e-Islam-Sami (JUI-S) Jamiat Ulema-e-Islam-Fazl (JUI-F), Jamiat Ulema-e-Pakistan (Noorani group) were invited but they did not participate. The declaration issued by the APC comprises over five points, including condemnation of the Model Town tragedy. It states that "the cruel operation on unarmed persons was tantamount to tearing justice into shreds".
It demanded establishment of a judicial commission comprising three judges of the Supreme Court who have a good repute over the Lahore incident. The declaration said the judicial commission should have the powers to summon the prime minister, Punjab chief minister, federal ministers and other higher authorities to probe the case. The commission, it added, must constitute an inquiry committee too comprising of officers of investigation agencies who have a good reputation.
The joint declaration also demanded that all police officers and other government officials, including IG Punjab, DIG, home secretary, DCO, Lahore CCPO, SSPs, SP Model Town and SHOs Model Town Police Station should be dismissed and arrested "for their involvement in the Model Town killings", while Punjab Chief Minister Shahbaz Sharif and other provincial ministers should resign and hand over themselves to the law.
It said that if Chief Minister Shahbaz and his ministers do not resign then the president of Pakistan should sack them. The resolution also demanded that the FIR registered against the victims of the Model Town tragedy should be withdrawn and a new FIR should be registered on the complaint of the victim party, the Minhajul Quran Secretariat, in Faisal Town Police Station. The declaration said that the attack on PAT Secretariat and its chief, Tahirul Qadri's residence was state terrorism and government tyranny. It claimed that police fired on unarmed people, including women, while the holy Quran was desecrated during the clash.
The conference declared the attack as unconstitutional, against Islam, law and democratic and international traditions, and argued that the government has no right to stay in power anymore. The APC continued for almost three and half hours. At the beginning of the APC, Qadri briefed the participants about the Model Town incident and claimed that the Minhaj security guards had not fired at the police, as his son had directed them against retaliating. He said police commandos were specially called from different districts to participate in the "operation". A video documentary of the incident was also showed to the participants of the APC.
PML-Q's Shujaat Hussain demanded the resignation of Chief Minister Shahbaz and called him "Qatil-e-Ala". He said that at a time when the army was fighting against terrorists, "state terrorism was being committed in Lahore". PTI's Shah Mehmood Qureshi also condemned the incident and demanded Shahbaz's resignation. Meanwhile, MQM's Khalid Maqbool Sidduqi said the incident should be investigated freely. AML's Sheikh Rasheed Ahmad said it was planned and scripted, whereas APML's Ahmed Raza Kasuri condemned the incident and claimed that the General Headquarters (GHQ) had scripted Prime Minister Nawaz Sharif's speech in favour of the military operation.
Prominent political or religious figures who participated in the event were Tahirul Qadri from the host party, PAT, PML-Q's Chaudhry Shujaat Hussain and Chaudhry Pervez Elahi, PTI's Shah Mehmood Qureshi, Mian Mehmoodur Rashid, Ijaz Chaudhry, AML's Sheikh Rasheed Ahmad, MQM's Rashid Godil and Khalid Maqbool Siddiqui, APML's Ahmed Raza Kasuri, JI's Hafiz Salman Butt, Nazeer Ahmed Janjua, Baba Haidar Zaman of Hazara Party, MWM's Allama Raja Nasir Abbas, Ghulam Shah of the Sindh United Party, Syed Ehsan Shah of Balochistan National Party, Allama Amin Shaheedi, Sardar Asif Ahmed Ali, Ghulam Mustafa Khar, Allama Ibtisam Elahi Zaheer, and J Salik.
Source: www.paktribune.com
Source : http://paktribune.com/news/Qadri-led-APC-wants-whole-Punjab-set-up-to-go-home-270012.html