Dr Qadri refuses to join Model Town incident investigation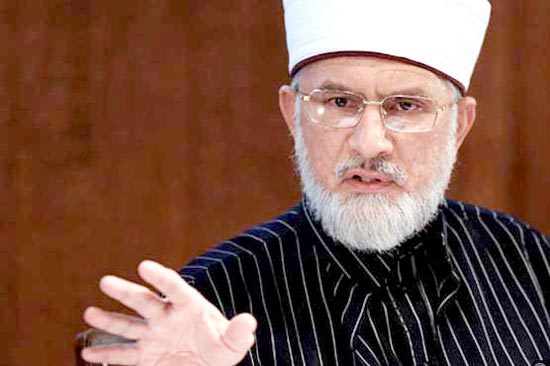 The PAT chief says cannot join probe by Punjab Police whom he has declared main accused in the case.
LAHORE (Dunya News) – Pakistan Awami Tehreek (PAT) chief Dr Tahirul Qadri has refused to become the part of investigation related to Model Town tragedy, Dunya News reported.
Inspector General Punjab Police Mushtaq Ahmad Sukhera had written a letter to Tahirul Qadri to join investigation into the incident.
However, the PAT chief refused and said Punjab Police, who were killer of his party workers, were probing the incident.
Meanwhile, in an informal discussion with newsmen after Iftar dinner at Minhajul Quran, Dr Tahirul Qadri said his agenda was different from that of PTI chief Imran Khan. He said revolution was not linked to only demanding elections or vote verification in four constituencies.
Qadri said there would be no demand, no condition and no negotiations with the government during the revolution.
The PAT chief said the present system in the country has left to follow the principles of Quaid-e-Azam Muhammad Ali Jinnah. He said that new social contract would be introduced through revolution.
Dr Tahirul Qadri said he would announce the date to launch revolution after consultation. He said that the pat revolution would be constitutional, democratic and peaceful.
At least 12 people including two women were killed during violent clash between the supporters of Pakistan Awami Tehreek (PAT) chief Tahirul Qadri and police on June 17.
The clash began when supporters of Pakistan Awami Tehreek (PAT) tried to stop police from removing hurdles outside their leader's house in Lahore's Model Town area.
It is pertinent to mention here the government had formed judicial commission to probe the incident while Punjab Law Minister Rana Sanaullah resigned from his office to face the investigation.
Source: www.dunyanews.tv
Source : http://dunyanews.tv/index.php/en/Pakistan/228000-Qadri-refuses-to-join-Model-Town-incident-investig