ARY: PML-Q's Pervez, Shujaat meet Tahir-ul-Qadri to discuss revolution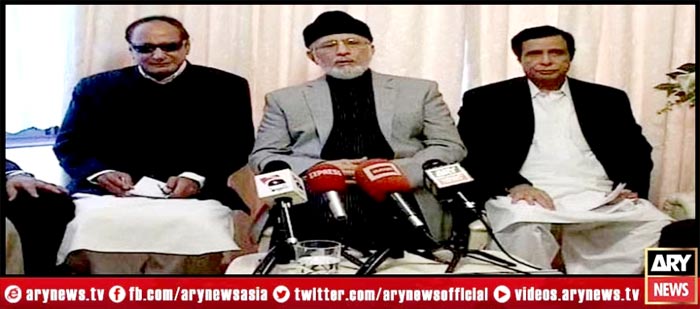 LAHORE: Pakistan Muslim League Quaid-e-Azam (PML-Q)'s top leaders Chaudhry Pervez Elahi and Chaudhry Shujaat Hussain met Pakistan Awami Tehreek (PAT) chief Dr Tahir-ul-Qadri at his residence and exchanged views on political situation of the country, ARY News reported.
The Chaudhry brothers in their meeting with Tahir-ul-Qadri discussed the ten point agenda presented by cleric-cum-politician who is planning a people's revolution in Pakistan.
The troika also discussed the four points presented by religio-political party Majlis-e-Wahdat-ul-Muslimeen (MWM).
Before Elahi brothers, Sunni Ittehad Council (SIC) chief Sahibzada Hamid Raza and MWM leader Raja Nasir Abbas Jafri also met Qadri.
Talking to media after the meeting, Hamid Raza said that all parties including Pakistan Tehreek-e-Insaf (PTI) are being consulted regarding the proposed revolution and a good news is imminent.
Source: arynews.tv
Source : http://arynews.tv/en/pml-qs-pervez-shujaat-meet-tahir-ul-qadri-to-discuss-revolution/