Sitting leaders to be ousted before end of August: Dr. Qadri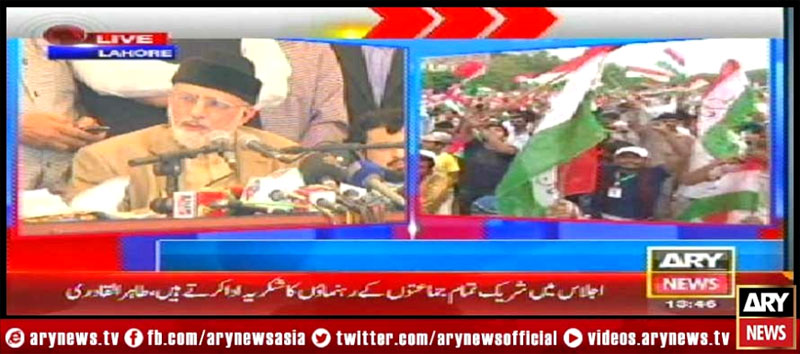 LAHORE: Chief of Pakistan Awami Tehreek on Sunday said that Youm-e-Shohada (Day of Martyrs) will be observed in Model Town, Lahore on August 10 in remembrance of those killed in 'brutal assault by Punjab police on the behest of prime minister and chief minister Punjab', ARY News reported.
"Before the end of August, the incumbent leaders will not be in authority. They will be ousted," claimed Dr. Qadri.
"I am inviting each and every citizen of Pakistan in Youm-e-Shuhada gathering. It will be entirely a peaceful event. If government ordered crackdown or obstacle any of the participants, then Youm-e-Shohada will then be marked at Jati Umra and Raiwand," warned Dr. Qadri at a address in Lahore.
He said there were nothing like law, constitution and democracy existed in Pakistan.
The PAT chief said millions of poor in Pakistani do not have fundamental rights that were given to even pets in the West. Scores of people were killed in the Model Town incident, he asked, if this is the democracy.
He told that Abdul Rauf of the Punjab Elite Force confessed before the Joint Investigation Team that 469 rounds of short machine gun were fired and 59 fires of G-3 during the Model.
"There were some 80,000 to 1,00,000 (1 lac) PAT workers who could seize Islamabad airport on my directions, but we did not resort to that violent move," said the PAT chief.
Qadri exhorted that, "If we wanted we could have show you (I am referring the Prime Minister Nawaz Sharif and Punjab CM Shahbaz Sharif) our power at Jati Umra and Raiwand. But we refrained from any such act mainly for the sake of peace. Our army is fighting against terrorists, therefore we did not want to disturb peace in the country and particularly saved Punjab from anarchy.
The government has refused the bail plea for elderly who have been arrested by law enforcers.
Families of those killed in Model Town incident have been visiting courts and police stations, but there are not being listened. They are even denied their FIRs.
Source: arynews.tv
Source : http://arynews.tv/en/pat-to-observe-youm-e-shuhada-on-aug-10-dr-qadri/