Qadri predicts end of PML-N govt by end of this month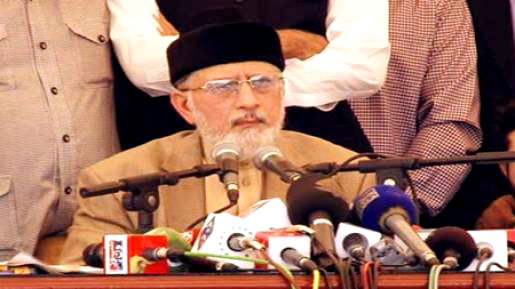 *PAT chief announces to observe August 10 as 'martyrs day' to pay tribute to workers killed by police in Model Town
LAHORE: Pakistan Awami Tehreek (PAT) leader Tahirul Qadri has predicted a change of the sitting government of Pakistan Muslim League-Nawaz (PMLN) before the end of this month (August).
He has also announced to observe Martyrs Day (Youm-e-Shohada) peacefully in Model Town on August 10 to pay tribute to his workers who were killed by police during a raid at the party secretariat on June 17. The Canadian cleric has permitted his workers to attack police officials' homes if they try to enter their homes, asking the PML-N government to avoid a crackdown of law enforcement agencies on his followers. He noted that since the Pakistan Army was fighting against terrorists he and his party did not want to disturb peace in the country "and wanted to save Punjab from anarchy. "But this should not be considered as our cowardliness," he asserted.
Qadri made this announcement while holding a press conference after addressing his party's General Council meeting at its central secretariat in Model Town. Allied parties like Pakistan Muslim League-Quaid (PML-Q) and its leaders Chaudhry Shujaat Hussain and Chaudhry Pervaiz Elahi, and leader of Majlis-e-Wahdatul Muslimeen (MWM) Raja Nasir Abbas were also present in the meeting. The PAT chief said that the 'Martyrs Day' would be observed on August 10 at the party secretariat in Model Town and before the day, he also announced to observe a 'Martyrs Week'.
He asked all Pakistanis to join the Martyrs Day gathering, bringing copies of the holy Quran, rosaries and prayer rugs with them. Qadri assured the nation that the Martyrs Day gathering would be an entirely peaceful event, but warned that if the government tries to launch a crackdown or create obstacles for the people then the PAT workers would mark the day in the residences of the prime minister and chief minister in Lahore at Jati Umra, Raiwind.
The cleric said there was no rule of law, constitution or democracy in the country and Pakistani people were being treated poorly. He said that the government has denied registration of an FIR by the PAT and has also refused the bail plea of the elderly who have been arrested by law enforcers.
Source: www.dailytimes.com.pk
Source : http://www.dailytimes.com.pk/E-Paper/Lahore/2014-08-04/page-1/detail-2