Nawaz won't be PM on Sept 1, vows Qadri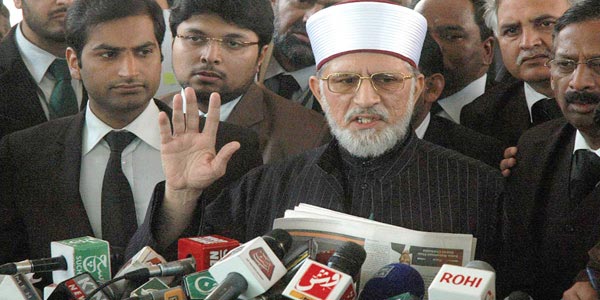 *PAT chief says 'revolution' will free country's law and constitution from clutches of ruling elite indulging in nepotism and dynastic politics
*Accuses govt of playing role of murderers in Model Town clashes
*Warns govt against attempts to harass people coming to 'Martyrs Day' ceremony on Aug 10
Pakistan Awami Tehreek (PAT) chief Dr Tahirul Qadri has claimed that 'Revolution Day' will come forth before August 31, adding that Nawaz Sharif will not be the prime minister on September 1.
Qadri, flanked by Pakistan Muslim League-Quaid (PML-Q) leaders Chaudhry Shujaat Hussain and Chaudhry Pervaiz Elahi, was addressing a press conference on Wednesday.
Accusing the government of nepotism, the PAT chief said that the revolution is essential to get freedom from dynastic politics.
Qadri said he did not want to wrap up the current system; instead, his efforts are aimed at breaking the nexus between the ruling elite and their 'businesses'. "The rulers have made the laws and state institutions their slaves," he claimed.
'WHERE'S DEMOCRACY?':
"The government is playing the role of murderers. On June 17, they killed 14 people and injured nine in Model Town. Nearly two months have elapsed but the police refuse to register an FIR against the accused. Do you call this democracy?" Qadri said.
Further questioning the present democratic system, Qadri said, "People are saying do not derail democracy, but what is the definition of democracy? Casting a paper (vote) is democracy?"
"No one, including PML-N members, can say that the votes were cast in a fair manner," Qadri alleged.
MARTYRS' DAY FOR PAK ARMY MARTYRS TOO:
Qadri said that on August 10 PAT will commemorate not only the lives lost in Lahore's Model Town clashes but also those of Pakistan Army soldiers killed in ongoing Operation Zarb-e-Azb.
It should be mentioned that Qadri had earlier announced that PAT will observe 'Martyrs' Day' on August 10 to commemorate the lives of PAT workers lost in violent clashes that broke out between Punjab police and Qadri's supporters in Model Town on June 17.
"We guarantee that if people coming to attend 'Martyrs' Day' ceremony are not harassed or attacked by the government, the event will be as peaceful as PAT's January 2013 rally," said the PAT chief.
Warning that Punjab government against harassing PAT supporters coming to the rally, Qadri said, "The Quran and the law allows (PAT supporters) to do what they can to protect themselves."
Meanwhile, PML-Q's Hussain reiterated his party's support for Qadri's 'revolution'.
Source: www.pakistantoday.com.pk