Dunya News:The 'corrupt system' would be overthrown soon: Qadri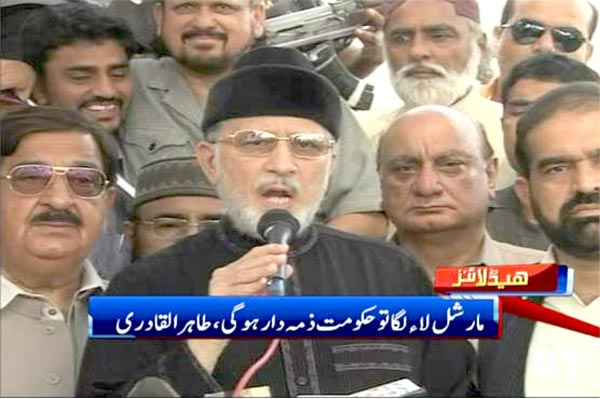 FAISLABAD (Dunya News) – Pakistan Awami Tehreek (PAT) chief Tahirul Qadri termed his rally in Faislabad as "Inqilab in Faislabad" on Sunday, Dunya News reported.
He said that he has promised to end the system of injustice in Pakistan. He remarked that the current government would be responsible in case martial law is imposed in Pakistan.
Talking to the media before leaving for his rally in Faislabad, Qadri said that nothing will stop the caravan of his party members who are set to bring a revolution in Pakistan. He said that his party's struggle against injustice would not end and the corrupt system will be overthrown soon.
He affirmed that the sacrifices of his party workers will prove successful and change will come. Today's rally in Faisalabad will show that status quo can't stay and corruption has to end," Qadri said. He promised to continue his struggle to put an end to the system of injustice continuing in Pakistan for past 65 years.
Source: www.dunyanews.tv
Source : http://dunyanews.tv/index.php/en/Pakistan/240392-The-corrupt-system-would-be-overthrown-soon-Qad